Welcome to Year 5
Mrs Kruze's Class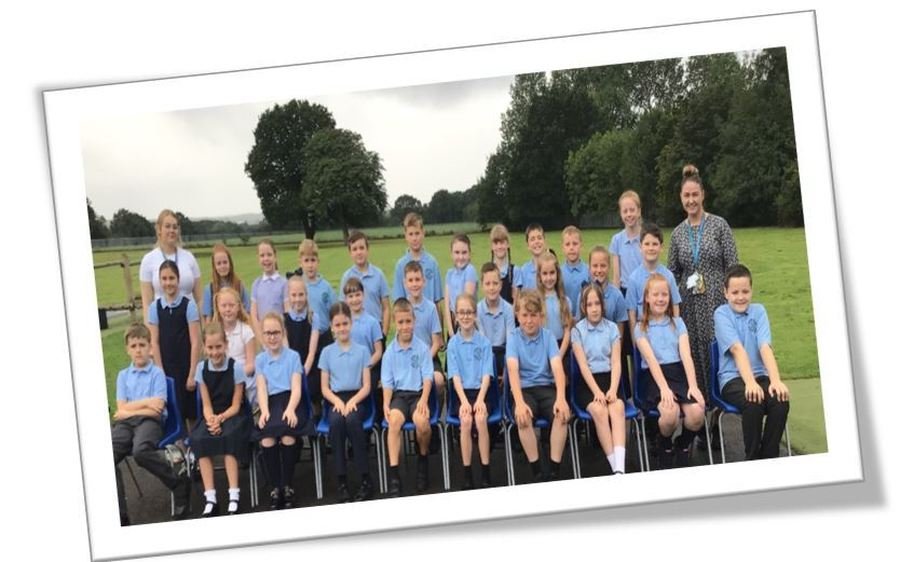 W/B 18.10.2021
The highlight of our week was definitely our Barn Dance PTFA event! The children loved dressing up, singing and dancing together and having a great time! Some pictures of this event are below. We will let you know how much money was raised shortly!
It was brilliant to speak to you all at Parents Evening and to celebrate your children's successes. They have made brilliant progress and this half term has been a pleasure!
Thank you everyone for a lovely half term. Enjoy your break!
Mrs Kruze
W/B 11.10.2021
This week, Year 5 were given the challenge to learn all about Nelson Mandela. They learned that he was born in 1918 in South Africa and he died in 2013. He led a very important fight against the apartheid, which was the separation and unfair treatment of Black people by White people.
Year 5 have created artwork based on Nelson Mandela and have also explored the ideas of justice and freedom linked to the apartheid in their English poetry work.
Next week, Year 5 will represent him in a whole school assembly and other classes will share their knowledge of their studied individual. The school will vote on who they think made the biggest impact on the world.
I can't wait to see who wins!
Mrs Kruze
W/B 4.10.21
Year 5 have had a fantastic week this week! In English, we have learnt all about Haiku and Senryu poems. We discovered the features of both Haikus and Senrys and found that they are quite similar, however they both have different subject matters. We created some fantastic poems, ensuring that our syllable counts were correct and we tried hard to include metaphors and precise synonyms for words.
In PHSE this week, we discussed rules and consequences, linking these to the Rights of the Child from our previous lessons.
Today, we had our whole school Learning Councils debate. We split into groups and debated the question: Is the UK welcoming? I was so proud to hear Year 5's responses and their attitude towards helping the younger ones was superb! Keep it up!
It's been a lovely week. I'm looking forward to seeing what the next two weeks have in store for us!
Have a great weekend,
Mrs Kruze
W/B 27.9.21
It's been another brilliant week in Year 5! In Science, we have continued our learning on Earth and Space. We learnt how the Earth spins on an axis, discussed how the other planets move around the sun and the length of time it takes for one rotation. We used globes and torches, to show the movement of the Earth around the Sun and the Moon around the Earth. Year 5 explained verbally how day and night occur and how the planets move around the Sun.
I have been amazed with Year 5's Maths work. We have consolidated our knowledge on formal methods of addition and subtraction. We have created our own word problems and have been able to explain our methods in words and draw in pictures. Keep up the good work Year 5!
Have a lovely weekend,
Mrs Kruze
W/B 20.9.21
Wow! This week has flown by! I have been so proud of Year 5's work this week. In RE, Year 5 learnt all about the story of Adam and Eve. We discussed whether we think that their consequence was fair or not. We also discussed whether God would have forgiven them if they demonstrated that they were sorry.
We are enjoying our English writing unit so far. This week, we have added to our knowledge of time adverbials and adverbials of manner. Year 5 have made me so proud with these! Keep up the good work!
Have a lovely weekend,
Mrs Kruze
W/B 13.9.21
It's been another great week in Year 5! This week, we started our geography unit: Marvellous Maps and Land Use. Our enquiry question is: How would you go about planning a trip in your local area? This week, we enjoyed using atlases, locating places of interest and using the key to help us. We also debated whether we should use atlases or google maps. There were lots of thing to consider such as practicality, affordability and ease!
This week, we voted for our School Council representative. Well done Riley - we know you will represent Year 5 wonderfully.
Well done to everyone for another fantastic week of learning!
Mrs Kruze
W/B 6.9.21
Wow! What a wonderful first week we've had in Year 5. We have had a great time getting to know each other and Year 5 have blown me away with their super work and wonderful respect. This week, our writing has focused on the British Value 'tolerance of those of other faiths and beliefs.' We based our writing around the book 'The Proudest Blue' by Ibtihaj Muhammad and Haten Aly. Year 5 produced some fantastic writing and they spoke about tolerance with such maturity. You have made me very proud this week. Keep it up!
Have a lovely weekend,
Mrs Kruze
18.10.21 - Parents Evening Via Teams
19.10.21 - Barn Dance Event
20.10.21 - Parents Evening Via Teams