Welcome to Year 3 - Mrs Dolman's Class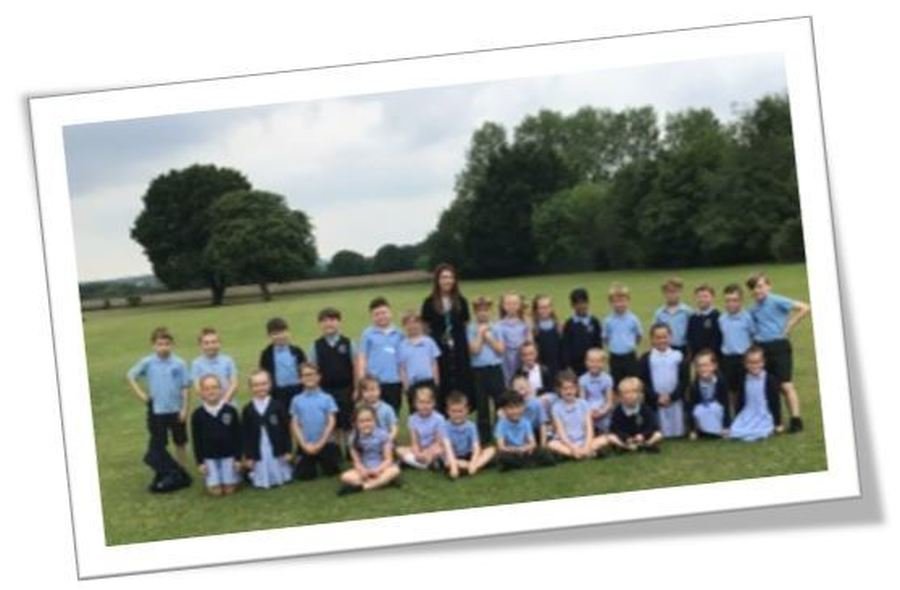 W/B 19.09.22
The week started off very exciting! The children arrived to school with tyres, ropes, fruit, leaves and twigs all over the playground, with the police investigating what has happened! Who could have created this mess? Why are they in our across? Are they still here? We had a special visit from a certain hairy character called Thomas. The children met and interacted with Thomas. We were immersed in a story following Thomas's life. During the story, Year 3 created an emotional attachment with Thomas and his home, exploring the positive and negative impacts of human behaviours on our world. Year 3 then explored a range of differentiated vocabulary to use in their writing outcomes for the week ahead.
The second workshop they took part in, focused on expanding vocabulary and encouraging the children to verbally discuss ideas that transfer into writing, using a green screen to ignite their imaginations. Year 3 become explorers in the rainforest and delved into a range of vocabulary and sentence structures whilst overcoming dangerous threats on their journey.
Following on from the visit, back in class the children created Save the Rainforest posters and planned and wrote a letter to Liz Truss to ask for help and talk about their learning of the decline in the rainforests and gorilla population. Excellent work was produced by all!
In Maths this week, we have been focusing on adding ones to a 3 digit number and making addition and subtraction families. The children very quickly understood about commutative law and were able to complete the activities for the rest of the week independently.
The children signed up to the after school clubs, multi-skills and STEM club have been very excited to share what they have been up to.
Have a great weekend
Year 3 team
W/B 12.09.22
This week we had our parents welcome meeting. Thank you to everyone who attended. It was a great opportunity to have an informal discussion about the exciting year ahead, expectations for Year 3 and to answer any questions.


To celebrate International Day of Democracy we voted for our class school councillor.
In English, we have continued the circus theme and the text 'Leon and the Place Between.' We have focused on word classes, adverbial phrases and direct speech in our writing.
In Maths, the children have been learning to count in multiples of 50, recognise and describe a number pattern and find 10 more/10 less and 100 more/ 100 less of a 3 digit number.
This week, we started our new Art unit all about Prehistoric Art. The children studied cave painting and discussed what colours were used, what they could see in the pictures, where they thought the artwork would have been painted and why they thought only certain colours were used. The children then began to practice the first step in creating their own prehistoric art by practicing the skill of line drawing. We chose British wildlife to practice our line drawings and adding simple line detail. I was so impressed!
We continued our History unit 'Stone Age.' We enjoying learning about archaeological roles in uncovering the past. We even had our own archaeological dig in class and found lots of evidence of pre-historic life, including flint arrow heads and stone hammer heads.
Our Science unit is all about rocks! This week we carried out a science investigation to find out the best rock to be used for different purposes based on their properties. The children made predictions, used various pieces of equipment and used key vocabulary when making their observations. We then wrote up all our findings as an investigation.
On Friday the children asked to do something in memory of the Queen. The children wanted to write sympathy cards to the royal family, create portraits and wrote letters to King Charles 111. The children wrote lovely words in the lead up to having time off on Monday for the Her Majesty's funeral.
Have a great weekend everyone.
Year 3 team
W/B 05.09.22
What a great start to the year we have had! Year 3, I am so proud of how you have all returned to school ready and excited for the new year to start. You have really impressed me this week.
We started off our first week with a whole school circus theme. The class got to take part in a fun circus skills session. We looked the how to use our balance and coordination to complete the tricks. Everyone had lots of fun at the session.
Our English lessons have all been centered around the beautiful text 'Leon and the Place Between.' A story about a boy who loves all the wonders of the circus. We have been looking at different sentence types and using these to create our own persuasive circus posters. We have also been looking at word classes and creating our own descriptive sentences with more impact and clarity with the vocabulary we choose.
In Maths, we reviewed our knowledge of place value from Year 1 and Year 2 and then moved forward in our learning. We looked at counting in 100's, understanding the value of the digits in a three digit number and compared and ordered three digit numbers.
This week we have also introduced our new History unit about the Stone Age, Bronze Age and Iron Age. The focus of this week was understanding just how long ago these time periods were. We used a timeline to locate the time periods studied and looked in relation to previous units taught and where these all fit in time.
Finally at the end of the week we all received the sad news about Her Majesty the Queen death. We held a whole school remembrance assembly, spent some time to learn about her life and took time to remember the rock and stay to which modern Britain was built on. We will continue next week with remembrance activities.
Enjoy your weekend
Year 3 team
PE days in Year 3 this term - Wednesday
After school clubs
Monday -STEM 3.30 -4.30
Wednesday Multi skills 3.30 -4.30
Parents Welcome meeting -
(Children's packs will be sent home)