St. Helens

O

N

E

- Grange Valley School Direct
Grange Valley Primary School is an Outstanding National Support School with responsibility for the St. Helens ONE School Direct training. It has a very successful record of working with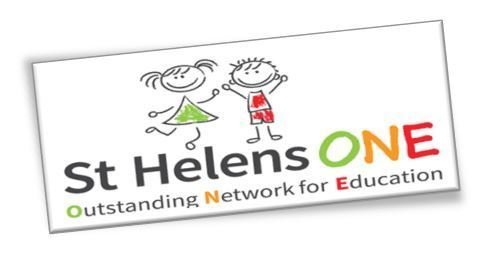 other schools and the local authority, in improving teaching and learning, pupils attainment and achievement.
St. Helens ONE aims to provide future trainee teachers with the unique opportunity to develop into successful leaders of learning. We are passionate about providing our children with high quality education which enables them to thrive. You will work alongside like-minded individuals who are eager to guide new students in developing themselves as professionals so they can experience a truly rewarding career choice.
As a training provider, we work in close partnership with Liverpool Hope University and several primary schools across St. Helens to ensure that we provide stimulating and challenging training to all of our trainee teachers.
Our School Direct Teacher Training programme has been carefully planned to ensure that you receive a personalised experience, drawing on your own knowledge and experience so that you are the driver of your own success and the success of the children you teach.
We have 20 places for 2020/21 in 12 placement schools across the St. Helens area
For further information, applicants should contact: Grange Valley Primary School - 01744 678300

School Direct Contact: Ellen Riley (Professional Learning Coordinator) ellen.riley@sthelens.org.uk

How to Apply
Apply on the UCAS website. You'll need to register before you can apply.
You'll need these codes for the Choices section of the application form:
training provider code: 2KF
training programme code: 39R7
September 2020 applications open 8th October 2019.
About the course
Grange Valley Primary School is an Outstanding National Support School with responsibility for the St. Helens ONE School Direct training.
Our School Direct Teacher Training programme has been carefully planned to ensure that you receive a personalised experience. The vast majority of time will be spent in schools training alongside experienced, good and outstanding teachers.
The training course is over a school academic year with a total of 179 Days, which are broken down into:
115 days for Whole Class Teaching Days (Block Practice days) – including Home/ Away Placements

22 days for Professional Practice – including Home/ Away Placements

7 days at Alternative Settings (High School, SEND and EYFS Placements)

28 days Professional Training at a variety of schools across the partnership.

12 days of Academic training to be held at Liverpool Hope University.
Course offered:

QTS full time
Course length:

1 year
Date you can apply from:

8th October 2019




September 2020 applications open

SOON

!

Interview process
Interviews are held at Grange Valley Primary School, throughout the year. Headteachers and mentors from the partnership of schools will interview candidates. Candidates will be observed with a class of children, asked to complete a written task and have a formal interview.
Personal qualities
We are looking for hardworking, ambitious and caring individuals who want the chance to inspire young children and who are able to provide quality educational experiences that ultimately ensures all children have the opportunity to succeed.
Training with disabilities and other needs
We welcome all trainees regardless of their needs and would endeavor to support all. If you have a disability, you shouldn't be dissuaded from applying. We will ensure all reasonable adjustments, on an individual basis, are put in place to help you achieve your ambition of becoming a teacher.
Requirements
Qualifications
Applicants are required to meet the following Liverpool Hope University entry requirements:
GCSE Grade C or above (4 or above in the new grading system) in English, Mathematics and Science.

You will need to have, or anticipate having a minimum 2.1 honours degree.

You must ensure you have passed numeracy and literacy skills tests

before the start of the course.

Any offer of a place on the programme is made conditional on satisfactory Enhanced Disclosure from the Disclosure and Barring Service and a satisfactory Fitness to Teach Declaration.

Relevant experience in a school setting is beneficial but not essential.
About the accredited provider
Liverpool Hope University has a long established tradition of delivering high quality Teacher Education. Their School Direct Partnership believes that it is vital that all trainees have the academic and theoretical underpinning to become outstanding practitioners within the field of Education. It is compulsory for all trainees completing a Postgraduate Certificate of Education (PGCE) to study at Masters level. This aspect of the training takes place at the university.
St Helens ONE Schools Direct @OneHelens
8 Oct The 2020 application cycle is now open! You can log on to UCAS and apply to to train with us. Our training provider… https://t.co/2qdb859HmV
4 Sep Our 2019/20 trainee teachers have started and what a great bunch they are!!! #getintoteaching #loveteaching
24 Jul Another round of interviews today to start in September #greatopportunities It's never too late! If you want to be… https://t.co/fe4dKhDyol
21 Jul It's not too late!!!!! Want to be a teacher? Want to train in Outstanding schools across St Helens? StHelens ONE is… https://t.co/Zp8asbmG67
12 Jul Class of 2019! #schoolsdirect @LiverpoolHopeUK https://t.co/pourx8Y40e
Our Partner Schools
Click on the logos below to be taken to their websites