Welcome to Year 2 -

Miss Dove's Class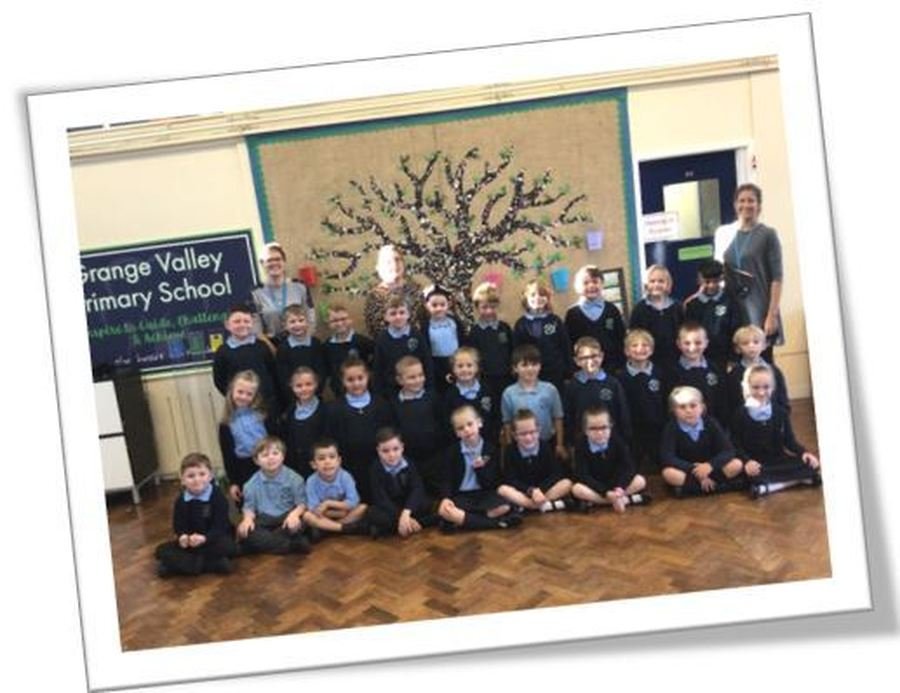 WB 11.7.22
This week we have been focusing on our Art work again. We looked at creating 3D drawings using oil pastels. We decided to create planets from our solar system using a range of colours and then blended them together using cotton wool.
In Geography we looked in more detail at a small town in Tanzania called Moshi, we looked at their life and culture, food, homes and school. We watched videos and compared them to our life in Haydock today. We were shocked to realise that we had lots in common with children in Moshi but overall we thought the food was better in Haydock! I think the fried bugs had a lot to do with that decision!
In PE we have been practicing our still frames and slow motion linking to the common wealth games. We found our own sports and recreated them in slow motion to the music. We have some very creative dancers!
In Science we looked at food chains and discussed consumers and producers - it was interesting to see how many chains had similar producers!
Have a lovely weekend everybody :)
WB 4.7.22
This week we had another lovely visit with Mrs Dolman, we drew our own self portraits ready to display in our new classroom!
In Art we started learning lots of different techniques. We began by making repeating patterns using different coloured paint and shapes. We enjoyed creating a range of repeating patterns and experimenting with overlapping. After that we made some rubbings and turned these into frottage. We created some fabulous animals using a range of rubbings.
In Geography we started looking at National parks and Game reserves. We then compared Serengeti National Park to the Lake District National park to see what was similar and what was different. It was really interesting to see that there were so many National parks in the UK that we didn't know about!
In Science we investigated the different conditions woodlice might prefer. We created 4 different areas in a tray - bright and dry, bright and damp, dark and dry and dark and damp. We collected woodlice and then put them in the middle of the tray and observed to see which one they preferred. Overall the woodlice went to the damp conditions but we were surprised to find that some of the woodlice went to the bright conditions as well as the dark.
This week was also our Summer fair, we loved bouncing on the bouncy castle and trying out all of the games :)
Have a lovely weekend :)
WB 27.6.22
This week was really exciting as we took part in our first colour run! We collected sponsors from our family and friends and then the teachers threw coloured paint at us as we ran past! It was lots of fun and good practice for our sports day.
In Geography we have been looking at Tanzania and where it is in the world. We then compared it to the UK and linked previous knowledge about the continents and hemispheres. We discovered that Tanzania is much hotter than the UK because it is near the equator!
In Science we have been matching living things to their habitats and discussing why certain animals cannot survive in different habitats.
WB 20.6.22
This week has been super exciting and extremely busy! We went on our very first school trip to Jungle Parc at Walton Gardens! We were so well behaved and made ourselves and Grange Valley proud. We worked together, showed resilience, teamwork and friendship! It was so exciting to be high up in the tree tops! We also wen to the petting zoo and got to see lots of different animals.
It was also sports week this week. In PE we learnt to play cricket - we have some very talented players and even the teachers got involved. It was lots of fun!!
We also had our very first sports day. We cheered on our friends and tried our best in both the sack race and the sprint race. We had such a good time and wished we could do it all again the next day!
On Friday we also had the pleasure of meeting our Year 3 class teacher! It is going to be Mrs Dolman! We cannot wait to get to know her over the next few weeks ready for September.
WB 13.6.22
This week we were really excited to look into the history of Grange Valley! We can't believe that we've got old headteachers' logbooks dating back to the war. We can see how many times school has closed due to pandemics in the past!
We finished off our History topic 'Nurturing Nurses' learning all about how Florence Nightingale and Mary Seacole influenced modern day hospitals and why the changes were important.
We also continued our Science topic 'Living things and their habitats'. We have already explored micro habitats so this week we looked into larger habitats! We discussed which habitats were the best for each animal and why certain animals couldn't survive in different habitats.
We have been working hard on their arithmetic skills and improving fluency in number. They have been using their number bonds to create links to help them solve two step problems. Year 2 have also been practicing their multiplication and division facts to prepare them for Year 3.
Have a lovely weekend everybody!
The Year 2 team!
WB 6.6.22
Welcome back! We hope you had a lovely half term break!
This week we have been celebrating the Queen's platinum jubilee with a party! We dressed up as the royal family, we enjoyed a garden party and learnt some popular dances from over the past 7 decades.
We also started our new book 'The Queen's hat'. We wrote setting descriptions, created our own narratives and wrote a diary entry from one of the guard's point of view. We loved linking this text to our British Values and we produced some fantastic pieces of writing.
WB 23.5.22
This week we have been very excited to watch our butterflies hatch! We researched what habitat they would need to survive and released them once they were big enough.
We also held our own 'Greek day' as part of Culture week. We invited our parents in, dressed in togas, learnt some Greek dancing and created lots of fabulous art work. We really enjoyed spending the morning with our parents and showing them exactly what we have been learning about!
As a celebration of the children who have been reading regularly all term, we enjoyed an afternoon of games, ice lollies and cakes!
WB 16.5.22
This week we have been reading George's marvellous medicine for our class novel. We enjoyed it so much that we decided to invent our own magic potions to blow Granny Up! We put on our safety goggles and aprons and then began mixing our potions filling them with lots of disgusting ingredients. After this we wrote down our instructions to tell George how to make it. We used lots of time connectives, imperative verbs, conjunctions and of course some fantastic adjectives!
We also had a brilliant African drumming lesson with a lady called Rebecca who taught us how to play the djembe drums along with the Ghana chant.
In DT we also chose our materials and cut out our templates ready to finish our final product next week - we have really enjoyed learning how to sew and cannot wait to put our skills into practice.
After a fantastic few weeks of working super hard and showing off our reading and maths skills, our teachers also arranged a surprise ice cream treat as a well done for working so hard! It was a lovely end to the week!
Have a lovely weekend everybody,
The Year 2 team x
WB 9.5.22
This week we have been focusing on our diary writing. We read the text 'Bumblebear' and wrote our own diary from Norman's point of view. We had lots of creative ideas and came up with some brilliant pieces of work - Miss Dove was especially impressed with our beautiful handwriting!
In Maths, we have been doing lots of word problems. We have been using a variety of different methods to solve the same problem and working out which one we prefer. We then had a little quiz between the tables to see who could come up with the most methods.
In Science we have been looking at habitats from around the world. We used the Ipads to research dfferent habitats and then created a fact file with our partners. We presented our findings to our friends in class.
We also had a delivery of Caterpillars this week - we are going to watch them change into chrysalis and then into butterflies. Did you know that this is called metamorphosis?! They have already grown so big and we are loving watching them grow.
In RE we had a visit from Reverend Chris to talk to us about the different Christian symbols. He wore his cassock and brought different coloured stoles. He told us that each colour represents something different as do the pictures. The cross, dove and candle are the most important ones. It was really interesting and it created lots of discussion.
In PE we are incorporating different animals and their habitats into our dance lessons, this is great because it links with our science knowledge. We really enjoy how creative we can be!
Have a lovely weekend everybody,
The Year 2 team
WB 2.5.22
This week we have been looking closer at habitats in science - we went looking around our school grounds to see which micro-habitats we could spot. We found lots of interesting insects, bugs and we even found a baby newt!
In PSHE we are looking at reationships and the different things that make us feel comfortable and uncomfortable. We know who we can talk to if we do not feel comfortable.
In Maths we have been recapping multiplication and division, sharing into equal groups and then inversing the calculations.
We have also started our Kente cloth art work ready for our art exhibition in a couple of weeks, we are really excited to show our parents and carers our masterpieces!!
In English we finished our work on 'The Owl and the Pussycat', we used the original and swapped the nouns and verbs to create our own rhyming poem!

In RE we have been looking at the different features of the church. We made our own stained glass windows to represent some of the Christian symbols.
Have a lovely weekend :)
WB 25.4.22
This week in English, we used drama to practice the past progressive tense - we dressed up as the Owl and the Pussycat and had to ask questions and answer what the other might say. We also started to look at the different nouns and verbs in the poem and find alternate (synonyms) ready to write our own version of the poem next week.
In Music we have been using the glockenspiels to create our own melodies using specific notes. We had to repeat the pattern and then create our own.
In DT we have been learning how to sew. We started off by practicing the running stitch, we found this tricky at first but once we got the hang of it, we did really well!
We also welcomed Adam from KABS who will be with us this half term doing lots of team building activities and games helping us with our social skills, resilience and team work.
Another fabulous week Year 2, well done!
WB 18.4.22
Welcome back!! What a lovely first week we have had back in school. It has been lovely to hear all about your holidays and the exciting things you have been up to!
This week we started our new class text - The Owl and the Pussycat. We looked at the old fashioned vocabulary like 'tarried' and 'shilling'. We did conscious alley to discuss whether or not the Owl and the Pussycat can be friends and then we wrote a letter to our friends back home to tell them all about our journey so far.
In Maths, we went back to basics with reminders of the different strategies to add and subtract 2 digit numbers. As the weather was nice, we even took our learning outdoors!
In Science we have started looking at Living things and their habitats - we linked our art skills to draw our school habitat before we use magnifying glasses to explore the micro-habitats in the area.
We have also really enjoyed exploring our new outside area - lots of trees to climb and dens to build. It was lovely to see the different ways we could all use our imagination!
WB 21.3.22
This week the sun has been shining and we have really enjoyed spending time outdoors!


We practiced different skills like rolling, poking, stretching and moulding using play dough in preparation for when we do our own sculptures using clay.

In computing we learned how to change the colours and shades which then can change the mood of our art work just like Monet before creating our own masterpiece incorporating all of the different skills we have learned over this term.
In English we have been building up to writing a discussion text about whether or not Jack should climb the beanstalk. We acted out "conscious alley" to persuade Jack to or not to climb and then used subordinating conjunctions to explain our ideas in more detail.

Have a lovely weekend in the sun ☀️
WB 14.3.22
This week was British science week so we have engaged in lots of different science activities. We have planted our beans in different pots and changed one variable in each to observe what happens. We also made a poster to show what we think about when we hear the word 'growth'. We have also had a visit from author Lucy Brandt to talk to us about her book "Lenora Bolt secret inventor" we listened to the first chapter of the story and then created our own inventions to help get us off a desert island.
We we have started our Art topic and we are looking at sculptures. We learned about George Frampton and how his statue of Queen Victoria has been commissioned and is now located in St Helens! We then compared the works of Henry Moore and Barbara Hepworth, we are going to continue replicating similar styles of their work next week.
In English we have been looking at Jack and the Baked Beanstalk. We compared this text to the original version of Jack and the Beanstalk and then looked at what Jack would need to do to cut down the beanstalk safely. We then wrote an explanation text to inform Jack how to do it.
In maths we have been explaining and understanding picture graphs (pictograms) and have been linking it to real life situations by finding out more information about our friends and recording it in a tally chart and a picture graph.
We we're also really lucky to have one of our Mum's come into class to talk to us about her religion and how she and her family pray. She brought in her prayer mat and showed us other important items that are used when they pray.
On Friday we also dressed up in yellow and blue in support of Ukraine. We used picture news to help us to understand a little more about what is happening in the world in a simple way we can understand.
Have a lovely weekend everybody :)
WB 7.3.22
this week is World of Work week. We have been very lucky to have different visitors into class to talk about their jobs. We had a paramedic, family support worker and a librarian. It was really interesting and we generated lots of questions to find out more.
This week we have been building on lots of previous learning. In Computing we have been looking at another type of digital art called Mondrian. We had to create black lines and fill them with colour. We found it challenging, especially when the paint spilled out of the squares, but we mastered it in the end.
In English, we finished off our class text of 'The Night Gardener' by writing a diary recount from William's point of view about when he met the Night Gardener. The children were so determined and creative that we had some brilliant final pieces of writing including the important features of first person and past tense!

In Geography, we created our own sketch maps of the school grounds. We looked at the aerial view on Google maps and recapped the different features. Once we had finished our maps, we added symbols and a key to show what the different features were.
In Maths, we are almost finished with our Money topic. We have built confidence adding coins, making different amounts and working out how much change we would get using bar models.
Have a lovely weekend everybody,
The Year 2 team xx
WB 28.2.22
The children have had another busy week this week. The main highlight was of course World Book Day! We all dressed up as our favourite book characters, got chance to visit the book fair and also created our own 'Book in a box'. It was lots of fun and really nice to see how much love for reading shone through! In Year 2, we even wrote our own stories to laminate and display in our library area!
In Geography we have continued looking at maps. We explored a range of different maps and used our metacognition thinking stems to generate discussions and questions. We then made our own messy map of the classroom using a range of different materials from around the room - this was lots of fun and it was great to hear lots of geographical language being used. We also used Google Maps to find an aerial view of our school. We used the map to create a route and then tested out our directions with a walk around the school site.
In RE we have been looking at the 5 pillars of Islam and the importance of why Muslims believe we should obey God. We compared this to what we already know about Hinduism and Christianity to see similarities and differences.
In Computing we have been looking at digital art. We created our own designs on the laptops using pointillism - making pictures using dots. It was really tricky at first but once we got the hang of it, it was actually quite fun!
In English we have been looking at different recount texts, in particular diary entries. We are going to write our own diary entry from William's point of view to tell the story of 'The Night Gardener.'
In Science we have been looking at germination and the life cycle of a plant. We linked this to last terms knowledge of a human life cycle and made comparrisons.
Have a lovely weekend everybody :)
The Year 2 team x
WB 20.2.22
What a fantastic week back after half term!
Our new class text is "The Night Gardener" by the Fan Brothers. To help us understand more we have been learning all about topiary trees and how they are made. We researched some facts about different questions and then presented our findings to the class in our groups before writing our own non chronological reports.
In Maths we have started looking at money. We identified the different notes and coins and are starting to add them together to get different amounts.
In Geography we are now looking at Magical Maps. We have been learning how to use the index to find different places in an atlas and planning routes to get us around our local area. Next week we will start making our own maps and we are really excited!
Our Science topic this term is Plants. We are looking at the difference between a seed and a bulb and differentiating between which plants we can eat and which we can't.
In P.E we have been working with Saints again to build on skills learnt in the Autumn term. This week we played a game called "defend your friend" which has helped us to practice our defence skills ready to apply in different games.
Have a lovely weekend everybody
WB 7.2.22
This week is Children's mental health week so we have been focusing on lots of positive things to keep our minds healthy and happy. We enjoyed days like 'Move it Monday' with Mr Ashton and "Wow Wednesday" where we looked for all of the things we were grateful for in school.

In English we started to look at limerick poems. We had lots of fun unpicking the features and creating our own limericks!
In DT we evaluated, designed and made our own dips and dippers. This was lots of fun and we all tried new foods that we didn't think we would like. We really liked making our own dips although next time, some of us decided we would not put as much lemon juice in!


in Maths we have been looking at symmetry and patterns, introducing ordinal numbers. We enjoyed challenging our partners to find lines of symmetry and seeing if we make a pattern with more than one.
We have also been learning about "Safer internet day" and how we can stay safe online. We have made posters, read stories and completed quizzes to ensure we know how to keep ourselves safe.
Well done for another fantastic term! Have a lovely break everybody! Stay safe and we shall see you when you return!


Love the Year 2 Team x
WB 31.1.22
This week we have been learning about non fiction texts, before we write our own explanation text next week. To help us to understand the differences, we compared fiction books and non fiction books and made a note of what made them different.
The children really enjoyed Number day. This afternoon we played a number of maths games like snakes and ladders, connect 4 and dominos, challenged ourselves on numbots and TT Rockstars, matched the digital clocks to the correct time, completed multiplication colouring and also attempted sudoku!! We also spotted a few of our teachers playing a sneeky game of dominos!
The children also loved National Story Telling week! We spent lots of time in our peaceful library areas reading lots of our favourite stories with our friends.
We also finished off our History topic by using all of the information we have learnt over the last few weeks to answer our enquiry question - Did Grandma shop on the internet? We have really immersed ourselves in the photographs and interviews with our own Grandparents and loved finding out about how shopping was different in the 1930's to today.
Some children also represented our school in a Boccia tournament. They got 258 points in total and had lots of fun! Well done everybody, you made the whole school proud with your wonderful attitude and listening skills.
Have a lovely weekend everybody :)
WB 24.1.22
This week we finished our English story "The Dragon Machine" and published our own fabulous adventure stories using this as a guide. We made sure we included all of the correct features and our presentation was perfect. Take a look in the photos below.
the next day we discovered a box full of strange equipment. We used our prediction skills to guess where they had come from. We then received a letter from a girl called Rosie Revere. She is an engineer but wanted to give up after her uncle laughed at her invention. We inferred how Rosie might be feeling and used evidence to prove it before sending suggestions of different items to use to improve her invention. We cannot wait to read the rest of the story and see what happens!
In RE we have been looking at how Hindus worship. Today we explored some of the different objects we might see in the Mandir (Hindu temple) and also discussed why Hindus worship different deities. It was really interesting to use our knowledge from last term to compare the similarities and differences between how Hindus pray and Christians pray.


We have been using our knowledge of fractions to solve tricky word problems and we have started to introduce equivalent fractions to our learning. This is something we are still practicing and we have tried to convince Miss Dove we will understand easier if she brings us all pizza and chocolate to school!
to end each day we have also enjoyed completing mindfulness activities such as yoga. This gives us chance to reflect on our day and rest our minds before home.
Have a lovely weekend everybody,
The Year 2 team x
WB 17.1.22
Happy Friday everybody!

The children have had another fantastic week this week!

We have started looking at Fractions and finding halves and quarters, looked at different animals and how they grow and enjoyed choreographing our own dance routines. We also looked at how to stay safe online and explored different ways to create our own story on book creator in Computing.

We also started to write our own adventure story based on our class read "The Dragon Machine" we are hoping to finish and publish this next week - we cannot wait for you to read our work, we are all so proud!

We also loved watching and reading out our interviews with family members from home, Thank you so much to everybody who helped the children to find out about shopping in the past, it has really helped them to deepen their knowledge in our history topic! You can find the QR codes to come of our fabulous video interviews in the photos :)

We have sent home a little bit of homework this weekend - practicing finding halves and quarters to consolidate our Maths topic and a reading comprehension to practice our understanding and fluency. This CAN count as one of the children's reads at home! ☺️

Enjoy your weekend everybody!

The year 2 team x
WB 10.1.22
Another fantastic week in Year 2! We revealed our brand new POWERS curriculum to the children in a "Masked Singer" style showcase. We learnt which character and teacher is responsible for each subject and loved finding out which teachers were behind the masks!
In English we have been so engrossed in the Dragon Machine that we decided to experience riding a dragon ourselves by acting out what it would be like. We used this experience to understand what we could see, hear and how we felt flying high in the sky looking down and used this to influence our writing. We then collected information about dragons from a range of different texts and wrote our own non chronological report.
This week we also started our new History topic comparing shopping in the past to now. We looked at photographs of shops we use today and then explored a range of sources we could use to find out more about shops in the past. Our first task is to interview our Grandparents this weekend to find out what they can tell us about what shopping was like in the past.
This term we are starting Dance in PE - our first lesson was brilliant, we have lots of very talented students! We cannot wait to see how we improve over the next few weeks :)
We continued to look at time in Maths, we learnt that each number was 5 minutes and practiced telling the time throughout the day. We also tried to figure out what time it would be after 30 minutes or 1 hour had passed.
Have a lovely weekend everybody!
WB 5.1.22
Happy New Year everybody!
We hope you all had a fantastic Christmas and stayed safe making lots of memories with your families where possible.
We had a shock when we arrived in school and saw large footprints across the classroom and two shiny, silver eggs. We investigated the clues to predict where we think the eggs came from and then used our science knowledge to try and work out which creature the eggs may belong to!
In English we have been learning about subordinating conjunctions. We read through a modelled character description about a dragon and worked together to find and highlight all of the different conjunctions. We then used these to write our own character descriptions. Here are a few examples :) Miss Dove is really proud of how hard we are working!!
In Maths we have started to look at time. The children have been practicing making, reading and drawing the hands to show o'clock, half past, quarter past and quarter to. Next week we are looking at how each number represents another 5 minutes. Please keep practicing time with the children at home whenever the opportunity arises to help consolidate their knowledge ☺️
WB 13.12.21
What a fantastic final week in school before a well deserved Christmas break!
We had a surprise visit from Santa who gave us all some gorgeous presents, we had a fabulous Christmas party with lots of games, dancing, laughter and of course party food!
We also made Christmas calendars, baubles and cards to take home to our families!
This week was our final week for our STARBOOKS challenge - every child who read 4 times or more every week this half term got a treat of Hot chocolate, marshmellows and biscuits - yum yum! This challenge will start again next half term.
The Year 2 team would like to wish you all a very Merry Christmas and a fantastic New Year! Thank you for all of your support and we look forward to seeing you all in 2022 :)
WB 6.12.21
It's beginning to look a lot like Christmas in Year 2 this week!
We recorded our very first school Christmas play and did a fantastic job! The recording will be posted out next week for the children to watch with their families at home (with popcorn of course!)
Santa also sent 2 of his magical reindeers for us to see and we were able to ask lots of questions about what they get up to when they aren't delivering lots of presents.
We then watched a puppet show nativity which was really funny, followed by Christmas jumper day and a delicious Christmas dinner with our friends. We had hot chocolate and a movie to end the week.
Alongside all of the Christmas excitement we have still been working hard in lessons. In English we received a present and a letter from a boy named Duncan - It was a new book called 'The Crayon's Christmas'. He told us that his crayons kept arguing over which colour was the most Christmassy so of course we had to help! We each chose a colour, wrote down all the Christmassy things in that colour and did a 'conscious alley' to persuade our friends that our colour was the best. Next week we will write Duncan a letter back to let him know our ideas.
In DT we also completed our Christmas moving pictures using sliders and levers. We tried really hard to make our pictures and are really proud of our independence.
WB 29.11.21
WOW what a busy week Year 2 have had this week!
We have continued our English focus on The Owl who was Afraid of the Dark by researching Barn Owls and writing our very own Non-chronological report! We learnt lots of interesting facts about owls - Did you know Barn owls don't hunt in the rain because their feathers are so soft they find it hard to fly!?
In Maths we have been looking at length. We estimated which things in our classroom were more than 1m long and less than 1m long before measuring them to check if our predictions were correct.
We also had a lovely Advent assembly with Mr Swann - we have each promised to do something that will have a positive impact on others during Advent.
As Christmas is getting closer and we are starting to get in the festive spirit, we also decorated our class Christmas tree and wrote letters to Santa!
22.11.21
This week in Science we investigated greenhouse gasses and how climate change is affecting our world. We put 2 cubes of ice into lego houses and covered one with cling film. Then we timed to see which ice cube melted the fastest. We recorded our results in a table and concluded if our prediction was correct.
We also started looking at our new text - The Owl who was Afraid of the Dark. We used our existing knowledge of owls and habitats to predict what might happen in the story and how Plop the owl might be feeling.
In Geography we have been identifying human and physical features. With the sun shining we decided to go outside and see which features we could find on the school grounds.
In DT we are looking at mechanisms. We are going to be making our own moving picture but before we do we explored existing products and evaluated them to see how they work and which mechanism we preferred.
The children have also started practicing our Christmas play! We cannot wait to perform it for you all :)
WB 15.11.21
This week in science we have been looking at our Environment and ways in which we can 'Reduce, Reuse and Recycle' to help create less waste in our environment. We came up with lots of ideas and created our own posters to help spread the word.
As this week is anti-bullying week, we spent a lot of time spreading kindness and love to others. We asked each of our classmates to tell us 'one kind word' about us and wrote them all down. We then made a poster with all the lovely attributes our peers think about us.
In RE we have been exploring Christianity and the key question 'Why do Christians believe Jesus is the light of the world?' We looked at different light sources and then thought about why they were good metaphors.
We also finished our unit on Bog Baby by flipping the story and writing our own which was about an ice baby who was found in the snowy forest. We had lots of fantastic creative versions of the original and the children put all of their writing targets into practice.
WB 8.12.21
This week we continued our exploration of 'The Bog Baby' text and ended by retelling the story ourselves. We came up with some very creative similes and adjectives to set the scene for our readers.
In Maths we have been looking at commutative law - this is where you can swap the numbers in a calculation around and still get the same answer! We found this extremely interesting and had lots of fun testing out the theory!
In Music this week, we learned about the Russian composer, Tchaikovsky. We learned about families of instruments in an orchestra. We watched a part of the Nutcracker ballet called The Dance of the Sugarplum Fairy then we watched an animation of the story with Tchaikovsky's music. We really enjoyed this and some children found themselves practicing the dance on the playground!
In computing we have been looking at algorithms. We practiced being robots and following instructions carefully to understand why it was important to be clear and precise. We found out our algorithms helped us to make different shapes if we followed them correctly.
On Remembrance Day, the children showed their respect for the soldiers who have given their lives to us to live ours freely. At 11am, all children reflected with a minute silence and placed wreaths under our school tree.
WB 1.11.21
This week we did our first Forest School session. The children had an absolute ball! We learnt our Forest School rules:
⭐️Look after yourself
⭐️ Look after each other's
⭐️ Look after nature.
We also made smores on the firepit. They were delicious!
In Maths we have been learning our 2, 5 and 10 multiplications. We have found lots of different strategies and ways to represent our times tables.
In English this week the children came into class to find a strange habitat. We worked together to predict who we thought might live there. After lots of investigation, we found out it was a BOG BABY!
We have been so engrossed in our new core text "The Bog Baby" that we wondered what it would be like to have our own. How would we look after it? We decided to write our own instructions of How to Look after a Bog Baby, just in case we ever find one!
WB 10.10.21
This week we have been looking at Haiku poems. We have been clapping out the syllables and writing our own Autumn poems. We focussed on one particular part of the picture and based our poem around it. Take a look at some of our examples!

We have also been practicing attacking and defending in PE and learning how to create space to pass and receive the ball.
In Art we have been looking into the artist Vincent Van Gogh and which features of his work we like and don't like.
This month is Black History month and our role model is Dr Mae Jemison. We discovered that she was the first African American woman to go into space. We have created lots of beautiful art work to celebrate her achievements.
WB 4.10.21

This week we have been exploring diamante poems - we decided to use our knowledge of the Great Fire of London to write our own. We came up with some fantastic vocabulary and enjoyed making our poems come to life.

Our science word of the week this week was suitable. We went on a walk around the school grounds to find different materials and question if they were suitable for what they were used for - we then discussed if other materials were suitable or unsuitable.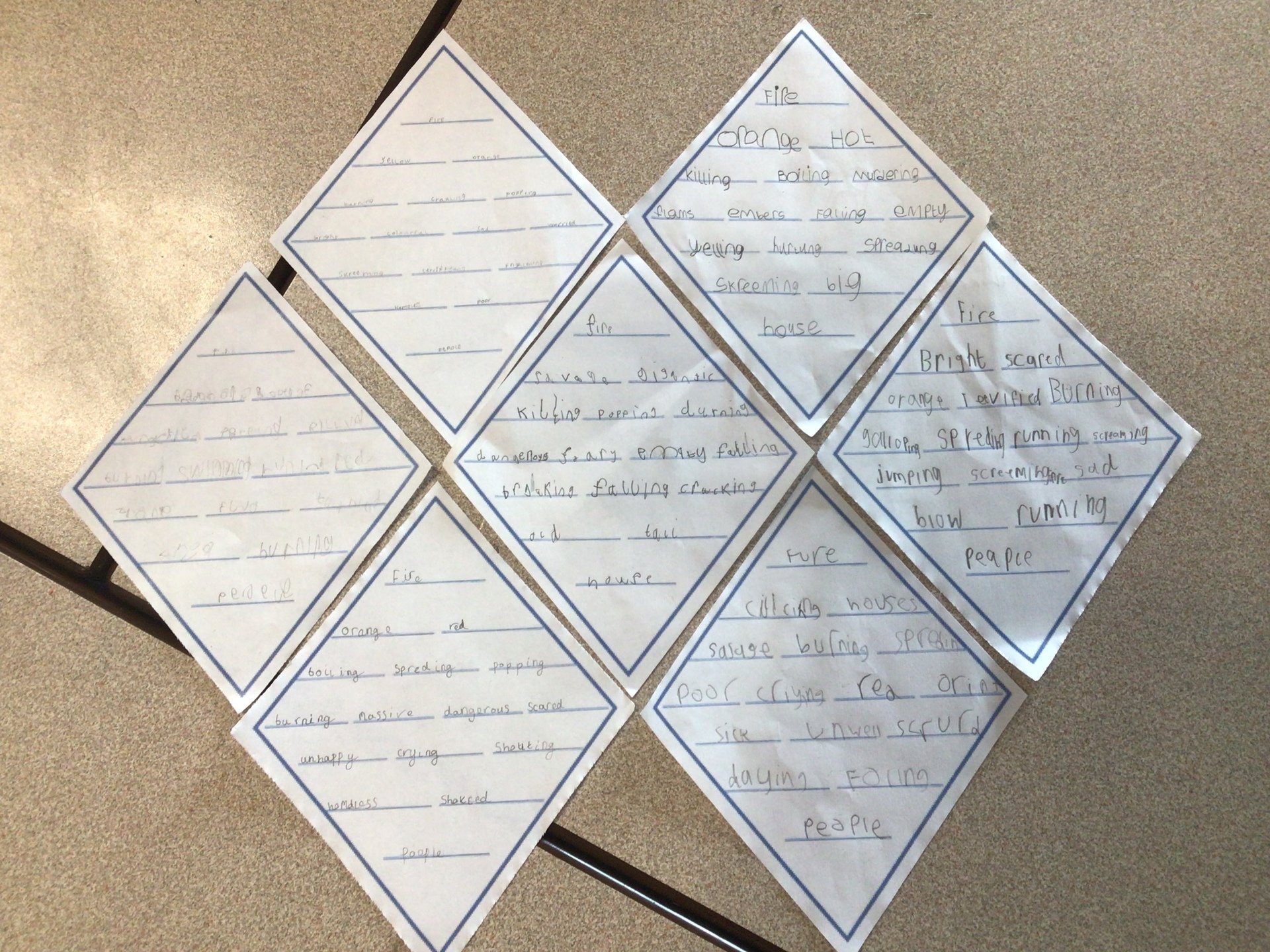 WB 27.9.21
This week we have really enjoyed writing our own instructions to tell people 'How to protect your house from the Big Bad Wolf'. We used 'bossy' verbs and time adverbials to make sure our instructions were in the right order, then added some very creative artwork afterwards!
We have been exploring different materials in Science and discussing why certain materials are used for different things such as why we do not use metal for an umbrella or why coats are not made form paper. Our science word of the week this week is 'durable'. Do you know what it means?
In Maths we have been adding 2 digit numbers and exploring the different ways to represent this.
We have also been practicing our cursive handwriting - Miss Dove is very impressed!
We cannot wait to see what we learn about next week!
WB 20.9.21
The children have had another amazing week this week! We have enjoyed learning skills in rugby with the Saints team and exploring different materials and their properties in Science.
We have been fully immersed in our History topic - The Great Fire of London and have been looking at the importance of Samuel Pepys and his diary!
In RE we have started looking at Christianity and why Christians believe it is important to care for our world.
W.B 13.9.21
Year 2 have had a wonderful week. We have been engrossed with our History topic; The Great Fire of London.
In English, we have been learning how to write instructions and practiced acting out our bossy verbs!
In Maths, we have been partitioning different numbers to 100 and using our place value chart to separate the tens and ones.
We have shown lots of resilience and persistence with our work and we have challenged ourselves to achieve our best.
We have been so busy this week but we are having lots of fun and cannot wait to learn more!