Welcome to Year 3 - Miss Vaughan's Class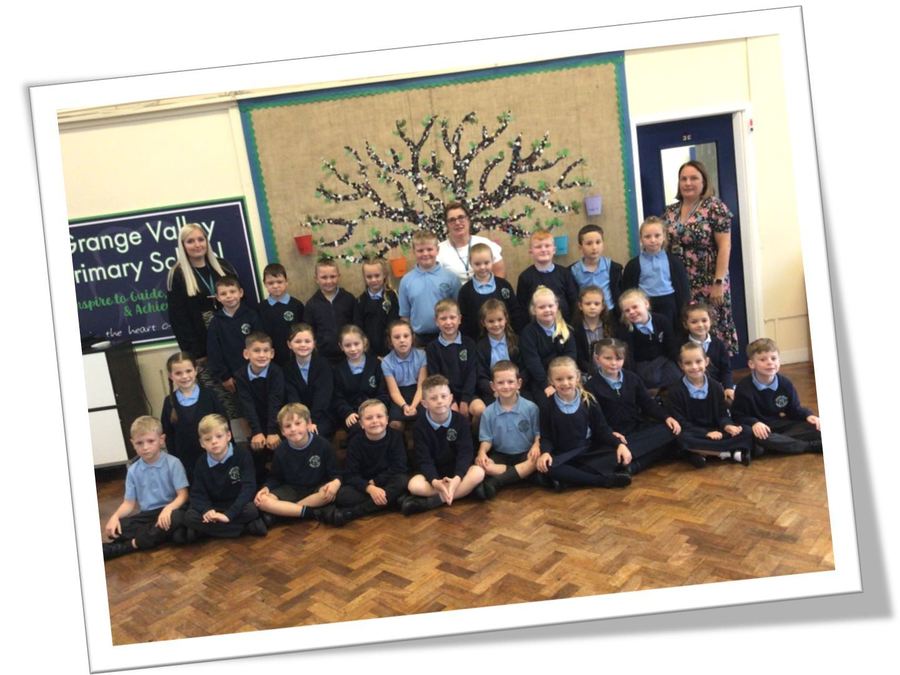 24.06.22
Wow! What a fun week we have had in Year 3!
This week, Grange Valley have had our sponsored colour run. We had such a fun afternoon running around the field whilst dodging powder paint. Everyone had such a wonderful time!


Continuing our geography topic, we have moved onto earthquakes and what causes earthquakes, how we measure them and what do to in the event of an earthquake. We practised an earthquake warning and the children found safety under their desks.


In maths, we have started our volume and capacity lessons. The children have enjoyed taking turns practising finding an amount using measuring jugs and have really gotten the hang of ml and litres in a fun way.


Well done Y3!
17.06.22
Year 3 have had a very busy week for National Sports Week. We have had our annual whole school sports day in which the children took part in a sprint and egg and spoon race. Everyone had a fantastic time it was lovely to have parent/carers back in school to support this.


In science, we have been continuing our light topic. We have been using torches and objects made from transparent, translucent and opaque materials to see which creates the best shadow. The children have enjoyed using the torches to experiment and create shadows.


In geography, we have been continuing to look at our Extreme Earth topic. The children have thoroughly enjoyed taking a deeper look into volcanoes and how they are formed. We will carry on looking at natural disasters over the next few weeks and find out more about what makes the Earth angry.


Well done Y3
10.06.22
This week year 3 have been very busy.
We have started our new maths topic 'money'. We have been recognising amounts of money and adding smaller coins to exchange for pounds. The children have enjoyed using plastic money to help us and the visual aid has supported our learning.
In Science, we have started our new topic focusing on light. In our first lesson, we learnt about the dark and how it is the absence of light. For this lesson, we needed to look into a dark bag and guess what an object was. This was very difficult and majority of children could not see in the darkness.
This week was our first forest school week. We had a fantastic time exploring our forest area and needed to work in groups to create an animal house. As you can see, everyone tried very hard. We are very excited to invite parents/carers next week to join in the fun.
Well done Year 3!
13.05.22
This week Y3 have been very busy.
In maths, we have been continuing our 'Time' topic and learning to read the clocks. We have enjoyed playing games related to time such as bingo and fastest finger first. The children enjoy challenging themselves to win at these games and pushed themselves further to do so.


In history, we are looking at the topic 'Railway Revolution'. We have been researching the revolution and how the formation of railways had an impact. We will continue to link this with the previous Haydock railway station over the next 2 weeks.


Our caterpillars are starting to settle on the lid of their container. This means that they are starting to get ready for their next life stage. We are very excited to see if we have cocoons in their home after the weekend.


Well done on a lovely week Y3.
29.04.22
This week we have had a great time in Y3. Now that the weather is improving we have been spending more time outdoors and enjoying the sunshine.


In maths, we have started our new topic on 'Time'. The children have enjoyed being able to tell the time in 5 minute intervals, to the minute and using time specific vocabulary.


In science, we have been continuing our topic on plants. We have been planting our own seeds in the classroom to look after as a class. This will help us to learn what plants need to grow and gain extra responsibility to keep them growing. We also have a class planter on the school grounds which we will be taking care of for the rest of the term. Today we planted flowers to watch them grow.


Well done Y3.
28.3.22
We cannot believe it is already the end of our Spring term already! The children have enjoyed learning about countries around the world, magnets and forces, fractions and persuasive adverts. This week, we have been completing our food technology unit 'edible gardens' where we have been researching, testing and preparing different herbs, fruits and vegetables to try in different dishes. We have learnt about how they grow, used our senses to explore them and dissected t look closely at the parts of each plant. Then we were able to prepare and tastes some delicious dishes, including tomato bruschetta and strawberry and banana smoothies! They were delicious! The children have evaluated their products and mostly decided that they would be great dishes to serve in school for break snacks or lunch time meals!


The children in Year 3 have grown up so much since September. They are becoming much more independent learners who are always engaged in their learning and eager to challenge themselves! We are looking forward to our new learning in the Summer term and preparing the children for Year 4!
W/B 21.3.22
What an exciting week we have had... we went on our first class trip! We visited Ribchester Roman Museum to learn more about our History topic. First of all, we explored the Museum artefacts. We were able to try on Roman Soldier armour, helmets and shields and we handled different replica shoes, bags and vases. After this, we had a beautiful walk along Ribble River where we found some remains of a Roman bath. We spent some exploring these and completing challenges in order to earn some Golden, Roman coins! After lunch, we toured the Roman Museum where we found even more artefacts and learnt even know about Roman Britain life.
The children's behaviour was exemplary- lots of positive comments on our respectful, helpful attitudes were made along the way! We had lots of fun and cannot wait to organise our next class trip together.
W/B 14.3.22
This week we have had a lovely week of learning. On Tuesday, we completed our math lesson exploring equivalent fractions. We found the simplest form by using concrete materials as 'slices of cake'. Later in the week, we enjoyed looking at different blogs during our computing lesson. We even had a look at our school blog and had a look at the fun things that every class has been up to.
At the end of the week, we had a Ukraine inspired day. The children came to school dressed in blue and yellow to respect Ukraine.
We have had a fantastic week. Well done Y3!
W/B 7.3.22
This week we have celebrated 'World of work week'. On Monday, we had a visit from Pip who plays for St Helens Women's team. She talked to us all hard work, determination and teamwork to achieve 3 competitions with her team! A couple of our girls asked about the local team too, which is Haydock girls! We can't wait to see our own future super stars! Later in the week we had a visit form a construction work and charity organiser who told us all that his passion for his work meant that he worked in the same job for 44 years! We also had visits from a social worker, a personal trainer, a sales and advisor and even the police paid us a visit! Year three were very respectful with each visitor, as always, and asked inquisitive, curious questions!


During Geography, we worked as a team in an orienteering task to create our own lines of Latitude and Longitude. We then played a game to place ourselves at different co-ordinates!
W/B 28.2.22
What a lovely week we have had. We have celebrated World Book day by coming into school dressed as our favourite book characters. We listened to 'The day the Crayons Quit' performed by all of our teachers, shared stories in our school library and in the book fair! During the afternoon, we watched Matilda performed by the London Theatre!
The children WOWed their teachers with their impressive use of emotive abjections, similes and personification! We have been discussing how slaves, like Jemmy Button, were given new names. We read the poem by James Berry, then wrote our own poetic sentences about why are names are social to us. We just had to show off their emotive poems, so we have put them on display! Keep up the beautiful writing Year 3!


W/B 21.2.22
This week, we have started our new English unit based on the book 'Jemmy Button'. It is story inspired by the true story of a native boy from Tierra del Fuego, brought to England to be 'civilised'. We have been using role play to portray how Jemmy would have been feeling when the ship of visitors arrived. Then, we used a drama technique called conscious alley to debate whether Jemmy should stay in Tierra del Fuego or leave with the strangers… some very convincing debating skills were used!
In Geography, we have started our new topic 'All around the world'. The children have been presenting their amazing homework research projects about different countries populations, capital cities, landmarks and food. We have also been becoming experts at naming and locating the countries of the world!
W/B 7.2.22
This week we celebrated International Safer Internet Day! We took part in a Coding Master Class and created our own Online Safety quizzes using Scratch! It was quite tricky, but the children showed great perseverance! We had a special assembly with Miss Brown (our computing lead) to discuss how we can play our part in keeping each other safe online!


W/B 31.1.22
Wow this week has been a busy week! On Thursday, we celebrated National Story telling week with bedtime stories. We came into school wearing our pyjamas, dressing gowns and slippers with our teddies and blankets. To start our bedtime stories, we enjoyed sharing stories with Wargrave's Year 3 classes! Next, we enjoyed some snacks whilst designing our own bedtime stories and colouring! Afterwards we got cosy with our blankets and teddies ready for some shared bedtime stories on the carpet. Then it was time for lights out for bedtime! We enjoyed some reading in the dark using our torches. What a lovely afternoon!
On Friday, we celebrated National Number day. We celebrated by sharing our favourite numbers and discussing where we see them. We had some very interesting choices- from door numbers, family members and football players shirts, to multiplication facts and shape sides! Then we played Bingo and lots of Math's board games.
W/B 24.1.2022
You will never guess what happened at school this week! We arrived on Wednesday to find that a gigantic, metal arm and body parts had been left scattered all over our school field. We had no idea who this creature could have been until we investigated the clues that had been left behind. We used our problem solving skills to work out that this creature must have been mammoth-sized, before exploring the different metal parts that had been left behind to identify what the creature must look like. Finally, Miss Brown gave us an extract from a 'mystery text' which we worked our was the Iron Man . We used evidence from the text to justify why this mystery visitor must have been him! Watch out as he could be found munching on cars, tools and telephone wires in the local area!


W/B 17.1.2022
This week we have been working on creating an unknown, rare species. Have you ever heard of a Teagle? Well, if not, you must come to our class to find out more! Our reports include intriguing introductions, a range of factual language and varied clauses and subordinating conjunctions. We have also designed our reports to be more eye capturing to the reader by making bold headings and subheadings and including a range of diagrams. It has been so lovely to see the children take such pride in their work. We even had a special 'Well Done!' from Year 5 and Mrs Kruze!
Next week, the children will be creating their own, independent report about their own creature. I can't wait to see them!
WB 5.1.2022
Welcome back everyone! I hope you all had a wonderful Christmas and a very happy new year! What a lovely week back we had! Year 3 have worked hard to his week. They have now become experts in division and linking known facts for the 2,4 and 8 times tables!


In reading, we have enjoyed finishing the Chronicles of Narnia! The children have grown to love and understand the characters feelings and predict their next steps based on well informed opinions. We cannot wait to start reading our next Class Novel- Planet Omar's accidental trouble!


WB 13.12.2021
Our last week in school of 2021! We have been busy designing, making and evaluating our own kites during this week. We have tested and used a variety of materials, shapes and designs to see which would be most efficient for a working kite. Then, we discussed what went well, not so well and what we would do next time!
We have had lots of Christmas fun this week too, including making Christmas cards, 2021 calendars and we had a Christmas party!
We wish you all a Merry Christmas and we will see you all in 2022!
WB 6.12.2021
Year 3 have had a very festive week! The highlights of the week were definitely the puppet show, Christmas Jumper Day, Christmas dinner day and recording our Key Stage 2 Christmas performance. We can't wait fir the premiere next week… Get your popcorn ready!


WB 29.11.21
Well, December is Year 3's favourite month… I wonder why! December was started by a cheeky, Elf visitor who delivered us an advent calendar full of treats. He has been up to lots of mischief in school, and even has a friend in school causing all sorts of mayhem!
The fun continued in our Math's lessons where we were allowed to draw on the tables! We explored the 3, 4 and 8 times tables, learning different ways to represent multiplication. We taught each other some very handy tips for learning your times tables facts.
Our week was made extra special by a VIP visitor. Father Christmas visitor school with some lovely messages for children who he had spotted working extra hard!

W/B 22.11.21
This week we come towards the end of our writing used based on The Stone Age boy. We have been carefully planning our own version of a Stone Age story to include expanded noun phrases, similes, preposition phrases and speech. The children have worked hard writing their stories in paragraphs and they are extremely proud of their efforts!

In PE, we have been continuing our Dance performances inspired by Cats the musical. We have been using the key dance ingredients of jumps, turns, balance, rolls and travel to move in unison with our partners in a cat-like motion.


W/B 15/11/21
We had lots of fun learning about dialogue in practical ways this week. We first used role play to think about and perform what Stone Age boy and Om would say to each other. Next, we learnt how to punctuate speech using sentence strips and pasta! Finally, we have begun writing speech within paragraphs, remembering that each new person needs to start with a new line.
In Geography we have been learning about the UK. This week we learnt about hills and mountains and how to locate them in an Atlas using a key. We explored their differences, before working in groups to research facts about the different Mountains in the UK.
W/B 8/11/21
This week, our dance teacher, Emma, said that we are the best dancers in the school! You will certainly agree when you watch our video below! In our dance lessons, we have been learning to combine a sequence of moves to a rhythm. We worked hard to synchronise our moves to the music and each other in order to work collaboratively. We have started to create our own dance moves to put to another piece of music… watch this space!

We had a visit from our local community officers earlier this week to discuss road safety. They reminded us about using crossings, signs and our adults to cross safely on our roads. Year 3 asked lots of mature, inquisitive questions, which the officers kindly answered.
W/B 1/11/21
The children had a fantastic start back to school with our Stone Age experience day! They arrived to school in their Stone Age costumes to a big surprise… there classroom had taken a trip back to Pre-historic times! All chairs and tables were gone and in their places were caves. They enjoyed communicating with each other through cave drawings, learning and creating Stone Age mathematical equations and describing the type of character they may find living in such a cave. They had lots of fun and were extremely inquisitive and engaged in their learning.
We will be exploring the text 'Stone Age boy' this half term in our English fiction unit. The teachers can't wait to see the children's writing as we continue!


W/B 18.10.21
How is the end of the first half term already? We have had an incredible few weeks getting to know each other in Hear and the children have worked so incredibly hard- the teachers are very proud of them!
We have finished our own version of Claude Monet's water lilies this week using pastels to create a layered affect of contrasting colours. Look how amazing they are! Year 3 had a fantastic afternoon completing their art in the lovely Autumn weather that we had this week! We are so lucky at Grange Valley to have such beautiful views, which inspired us to create some of our own artistic impressions. We completed these in the style of Claude Monet using a variety of textures, shades and line styles using a variety of products- paints, pastels and water colours. The end products were incredible!
We finished our week designing and carving pumpkins which were kindly donated to us! The children voted for their favourite designs and those children's decorations were carved into each groups pumpkin, with some help from the teachers!
Have a lovely half term break everybody and we will see you all back at school on the 1st if November.
W/B 11.10.2021
This week, we have been celebrating Black History Month. In Year 3 were given the challenge to learn all about Walter Tull. They learned that he was born in 1888 and grew up in an orphanage with his brother from a young age. Despite this, he became a fantastic athlete and the first black football player to sign for a professional team. He later fought in World War 1 where he became the first black lieutenant and sadly died in the battle of Somme. What an incredible man he was!

Year 3 have created fact files based on Walter Tull to showcase their new knowledge on him. Learning about the racial abuse that he faced during his time as a football player inspired us to campaign against racial abuse in our sports. We know that this unfortunately still happens today, so we designed kits for our favourite sports players to where, too. Year 3 have also written some fantastic letters in the role of Walter sharing his final praises and thoughts to his brother, Edward (Eddy) Tull.
Next week, Year 3 will represent him in a whole school assembly and other classes will share their knowledge of their studied individual. The school will vote on who they think made the biggest impact on the world. We can't wait to see who wins!


W.B. 4.10.21
How is it October already? The children are very excited for the Autumn season! We have some very eager artists in our class! This week, we have been continuing our Art study of Claude Monet. We have been admiring his famous Water Lilly, comparing the different versions when he painted at during different seasons or times of the day and how this affected the shades of couloirs that he used. The children then produced the base layer of their own version of the painting by carefully blending different shades of blues and greens. Next week we will be using oil pastels to add the Lilly pads- we are looking forward to seeing the end products.
W.B. 27.9.21
It has been an incredibly busy week in Year 3. On Thursday, we delivered the first class face to face assembly to the whole school to celebrate European day of languages. The children did so well to speak clearly (in other languages too) and to sing not just 1, but 2 songs in Spanish! Well done Year 3!
During our English lessons, the children were given the mammoth task of washing some extremely filthy animals! We followed the instructions that we have been working on to make sure that they were sparkling clean by the end! However, there were some very mischievous animals who splashed water and nibbled fingers! The children have also worked in pairs to write up their instructions for this task.

W/B 20.9.21
This week Year 3 have been enjoying writing their instructions 'How to wash a woolly mammoth'. They have worked together in groups to use command sentences which include imperative verbs and then to order them using time adverbials. In Maths, Year 3 have been number pattern investigators. They have recognised patterns going forwards and backwards in 10s, 100s, 5s and even 50s! This week the children have demonstrated two key values to our school. They have challenged and inspired one another in every lesson.
W/B 13.9.21
How do we find out about history without written evidence? Year 3 have been extremely busy working in the role of an archaeologist. They have been uncovering facts from the past. We even had our own archaeological dig in class and found lots of evidence of pre-historic life! There may be some digging up in gardens this weekend as we are very excited to find more artifacts!
W/B 6.9.21
We have had an incredible first week in Year 3 together, establishing routines and Key Stage 2 expectations. The children are already acting to responsibly and maturely! Our focus this week has been on our British Value 'Democracy'. Together, we have discussed human rights and why they important to us. Then, we have found out how our country has run and who makes decisions. We held our own election in class where each child had the opportunity to explain why they should be school council and vote (in secret!) for the person they thought would make the best class representative. The children have also been busy creating their own moral story about 'Democracy Frog'. Who would want to live in a place where there was nobody in charge and everybody ignored each other's opinions and choices? Year 3 have decided that this would be an awful place to be!
We have been incredibly busy in Year 3, but we have had lots of fun. We cannot wait to learn more.
Autumn Notices
Parent Meeting Via Microsoft Teams on 9/9/21 at 4:00-4:30pm

PE is on Thursdays