Grange Valley Personal, Social, Emotional
Aspects of Learning
As part of our whole school approach, PSHE education at Grange Valley is a planned programme of learning through which our children acquire the knowledge, understanding and skills they need to manage their lives. Although PSHE education remains a non-statutory subject, at Grange Valley we make provision for it as we feel this is an important part of our children's education giving them the qualities and attributes they need to thrive as individuals.
We offer a curriculum which is balanced and broadly based and which:
promotes the spiritual, moral, cultural, mental and physical development of pupils at the school and of society
prepares pupils at the school for the opportunities, responsibilities and experiences of later life'
My name is Mrs A Kruze and I am the PHSE & RSE Subject Lead at Grange Valley Primary School. I am passionate about PHSE & RSE and its importance to shape our children of today through offering them a curriculum which reflects the challenges of modern Britain and equips them with the tools to develop and flourish in an increasingly complex yet exciting world. I understand our responsibility to deliver a high-quality and evidenced based relationships and health curriculum for all of our pupils.
With this in mind, we have carefully chosen a scheme in which to follow titled Jigsaw. Jigsaw follows a yearly plan with carefully sequenced age-appropriate lessons. We have listened to the needs of our community and tailored a curriculum which suits the needs of our pupils here at Grange Valley. We ensure that our curriculum supports the personal and pastoral needs of our pupils, teaching sensitively and inclusively ensuring that we respect to the backgrounds and beliefs of our pupils and parents, with the aim of equipping pupils with the knowledge needed to become competent citizens in Modern Britain.
To ensure that learning is meaningful, we also offer a range of CPD opportunities for all staff and have a culture of sharing knowledge across our staff team and our partnership. Through this collective learning, I am proud that our team is able to 'guide, challenge and achieve' to ensure that all members of our community strive to be the best that they can be.
Relationships and Health Education
Parents please take time to read the important documentation below regarding changes The Department for Education has announced to Relationships, Health and Sex Education (RHSE).
Parents Guide: Relationships and Health Education
Our Schools Approach to Relationships and Health Education: Jigsaw
Jigsaw PSHE: Content Overview
PSHE Overarching Concepts and Essential Skills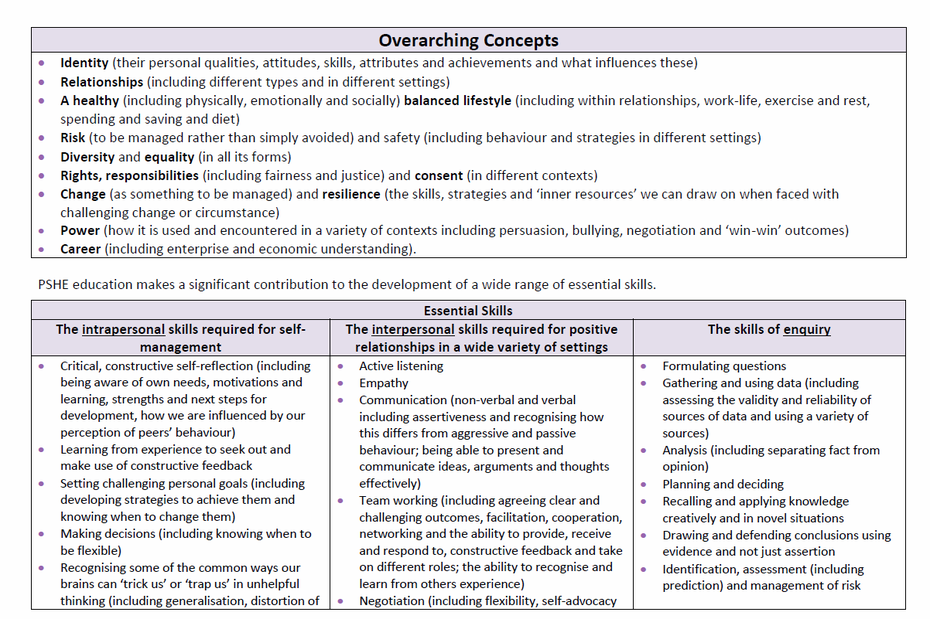 Health, Safety & Well-being at Grange Valley
Please follow the links below...