welcome to miss hitchen's year 5 blog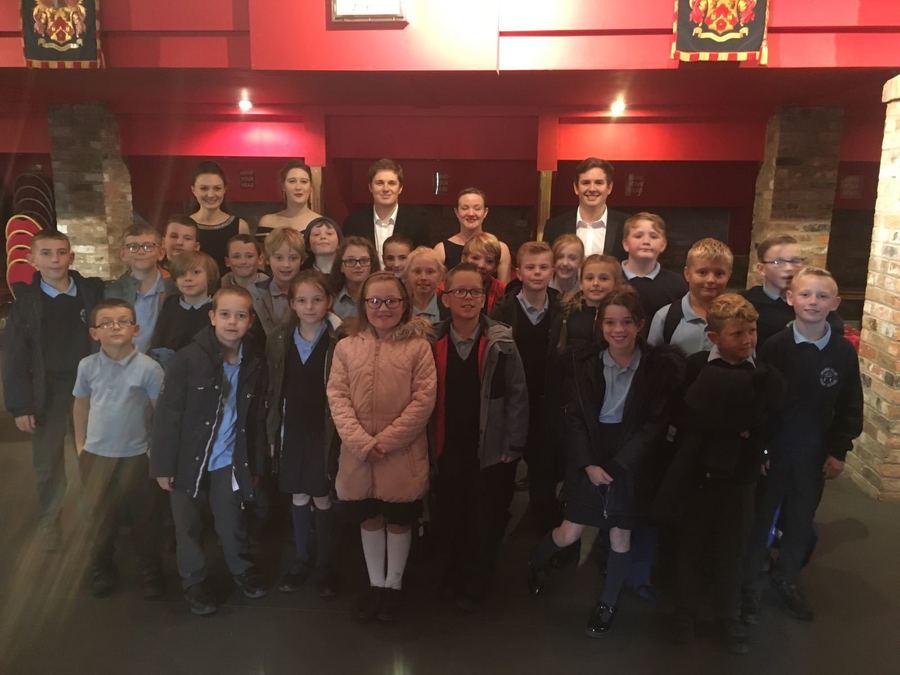 W/b 5/2/18
We have ended our half term on a high in Year 5! Our assessment week has been a huge success and I am so proud of all the children. They have made so much progress and it is lovely to see how proud they are of themselves and their achievements. New targets have been set and there are lots of exciting things planned for term ahead. Today, a new list of activities for our Children's University has been sent home. Each activity will earn the children credits. Please encourage your child to complete as many as possible and return them to school after the holiday.
Have a lovely half term and I will see you all bright and early on Monday 19th February.
Miss Hitchen
W/b 29/1/18
Another lovely week has flown by in Year 5. This week, Year 5 have been learning all about rhyming poetry. We have been using T.S Elliot poems as our stimulus and have enjoyed watching video clips of the musical 'Cats' to help us with our ideas. We have looked at different rhyming patterns and enjoyed role playing the different characters. Next week we will be writing a comparison of the two different cats, before creating our own characters for our own poems!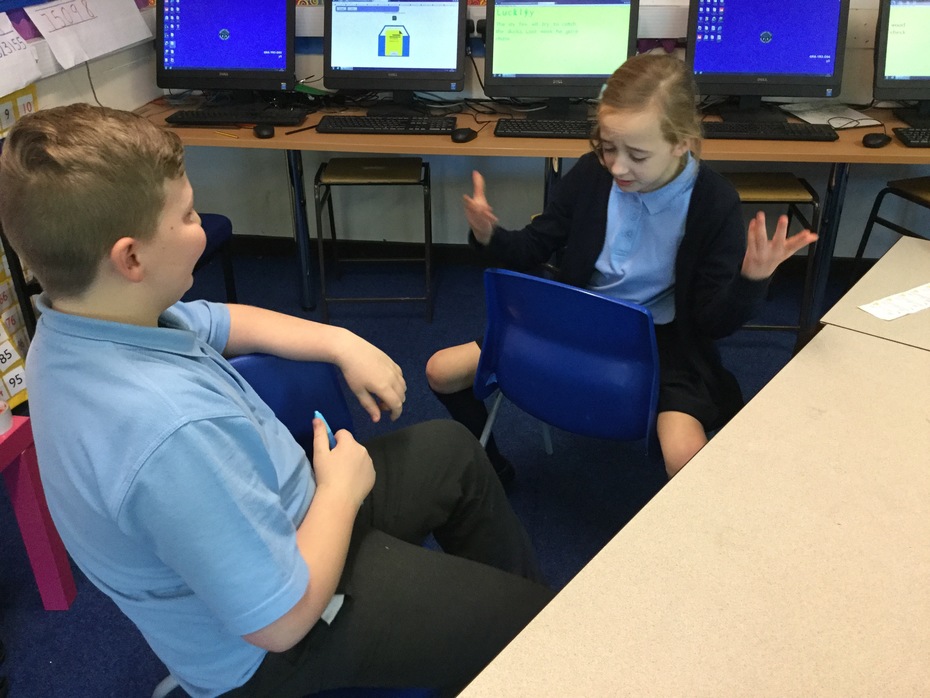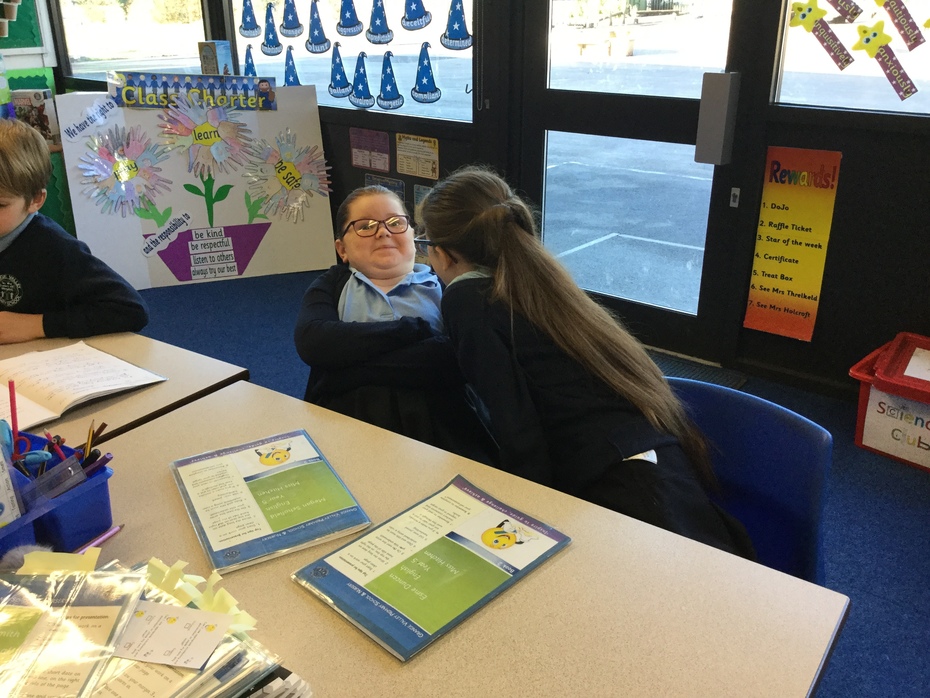 During out Maths lessons we have been learning all about fractions. We now know that the numerator is the top number (how much we have) and the denominator is the bottom number (how many make up a whole). We have also used bar models to investigate equivalent fractions and have began to practise converting improper fractions to mixed fractions and vice versa. Next week we will be completing our mid-year assessments. Any revision you could do over the weekend would be much appreciated!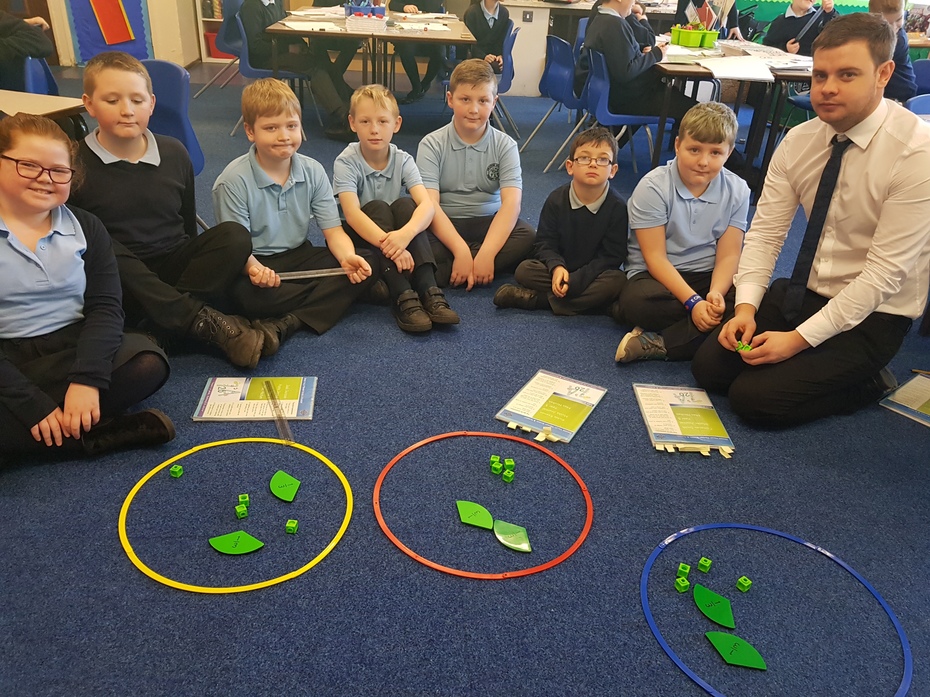 As part of our Rainforest topic, we have been looking at the Amazon forest in detail. This week we have compared the Amazon to Sherwood forest and have created our own flip books of facts to teach other children about the similarities and differences. I was super impressed with the children's reading of the different sources of information and their note taking skills! They will look fabulous on our classroom display when they are complete.
Have a lovely weekend!
Miss Hitchen
W/b 22/1/17
This week Year 5 completed their final drafts of their newspaper reports, which look fabulous displayed in our school library. This week in English, Year 5 have been learning all about rhyming poetry with Miss Moulsdale, who will be working with the children during the rest of the Spring Term. Next week we will be using the musical 'Cats' for inspiration for our writing.
During our Maths lessons, we have been learning how to interpret data presented on a line graph. We discussed, in detail, why people use different types of graphs depending upon the data they have collected. We looked at the history of the Summer Olympics and compared the number of gold medals the UK won compared to the order they were ranked each year. Children could use the line graph to make statements about the data presented. This weeks homework is an extension task from this, which requires children to plot some data of their own in order to be able to answer the questions.
As you know, this half term our topic is all about Rainforests. This week we have looked at animals which live in the different layers of the rainforest and used the laptops to type our own non chronological reports for our classroom display. We have also completed our sketches of our animals and used chalks to colour them. Mr Robinson will be displaying our hard work next week, please come in to class and take a look when it's completed!
Today children have been given new reading books and have taken home their reading diaries, which need to be returned to school on Monday. Please can you make sure children read a minimum of five minutes each night and that this is recorded. Next week, reading diaries will be being collected to see who will be able to attend our next 'Starbooks' reading cafe! Year 5 spelling lists have also been sent home today. Children will be tested on these words next week. Please refer to the highlighted sheet, which was sent home before the Christmas holidays, which indicates the words children need to learn. Please spend time with children learning the different meanings of words which sound the same but are spelt differently, as this is an area we are trying to develop in class and any support you can give at home will be greatly appreciated.
Have a lovely weekend!
Miss Hitchen and Mr Robinson
W/b 15/1/17
Another terrific week has flown by in Year 5. This week, during our English lessons, we have been learning all about the key features of newspaper reports. We worked in small groups to read a selection of reports and discussed the similarities between each, before putting together a structure for the genre to display on our working wall. Year 5 decided it would be lots of fun to write our own newspaper reports about Paddington Bear and his enemy Millicent Clyde, who tried to capture him to stuff him for her collection of unusual animals. We have learnt the difference between fact and opinion and how to join both sentences using a semi colon. We have also learnt how to write an effective headline using a pun, an orientation answering the 5W's, a main body which includes quotes and a reorientation which changes our piece of writing to present tense. Year 5 are super proud of their final newspaper reports, which will be on display in our classroom once we have finished editing and redrafting them.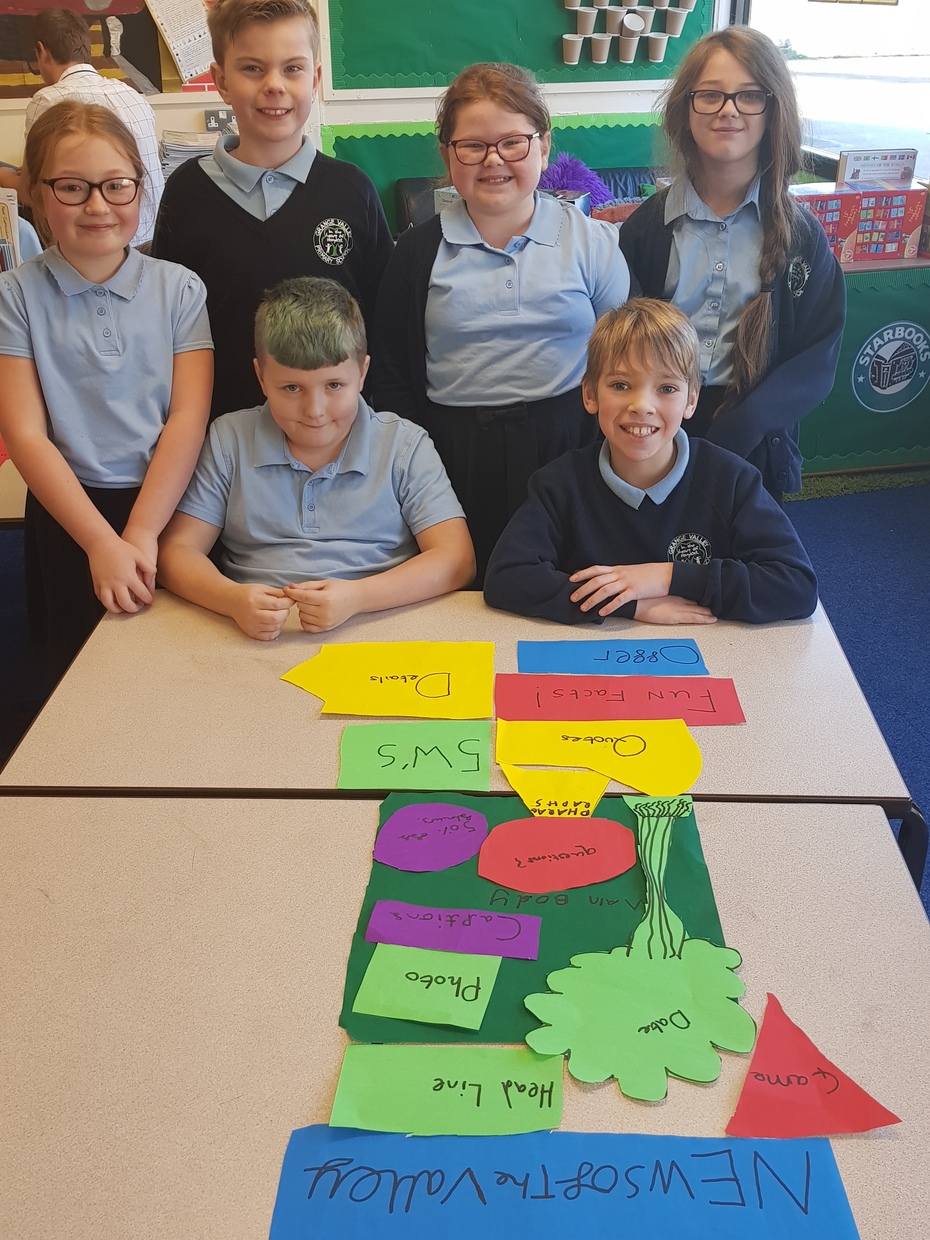 During our Maths lessons we have continued to practise how to tell the time on both analogue and digital clocks. We are becoming more confident in converting to 24 hour time and have even been able to begin to use our knowledge to read a variety of timetables. This weeks homework should give children the opportunity to practise this skill independently. If children are still struggling, please send the worksheet into school before Wednesday and I can provide more support with this.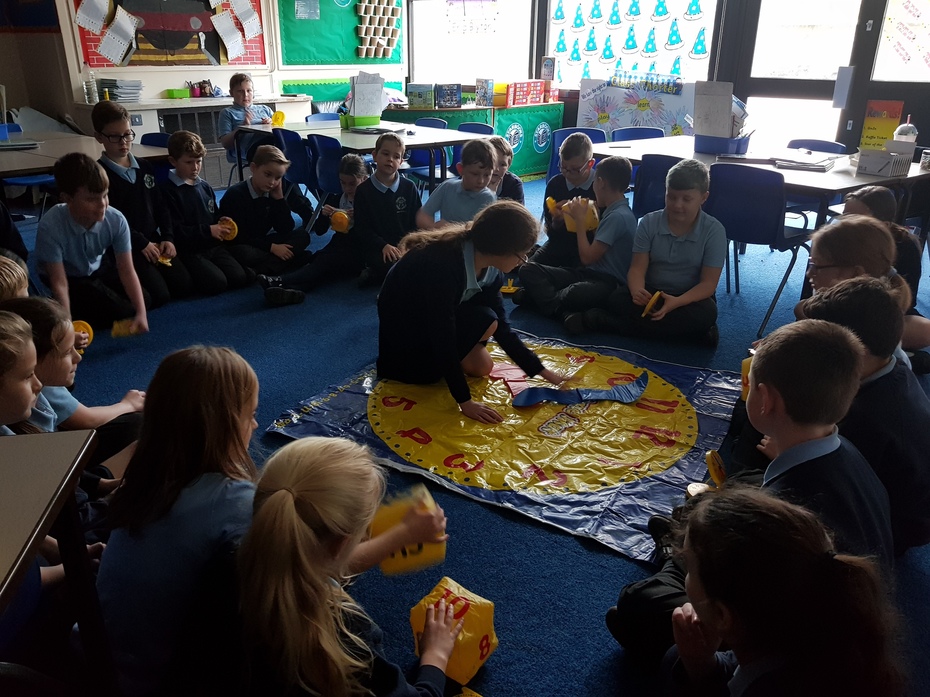 For the half term ahead, our topic is 'The Remarkable Rainforest.' This week we have used atlases to locate the rainforests across the world and also learnt about the different layers. We had a very special delivery all the way from the Amazon this week, we were very excited to see what was inside the box.... A Scarlet Macaw called Sally. Year 5 were challenged to use their knowledge of the layers of the forest, to decide which layer Sally was best adapted to live in. We have began to research different animals which live in each layer and next week we will be writing our own non chronological reports for display.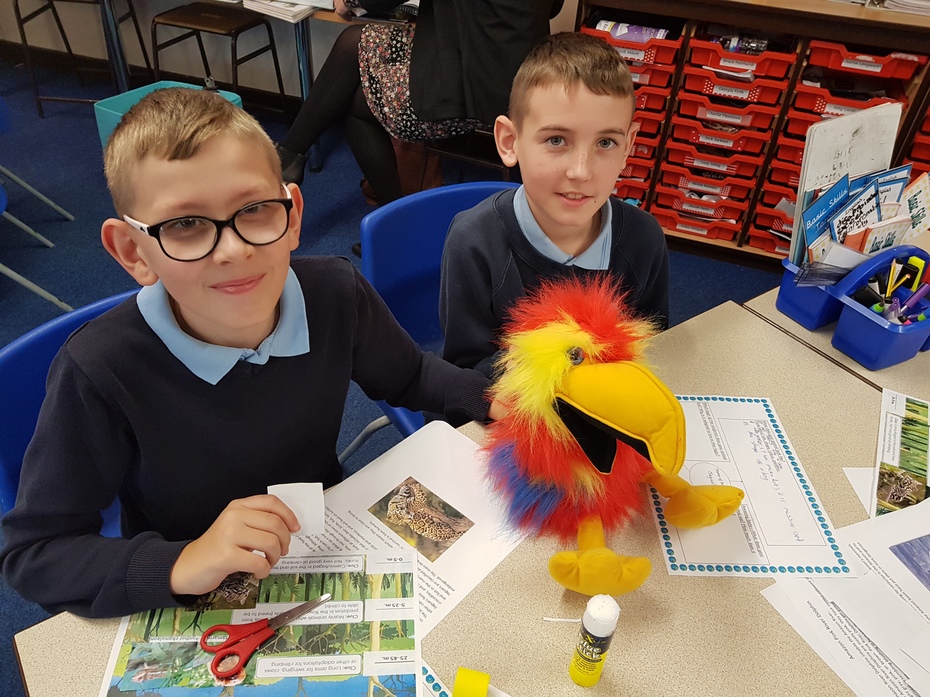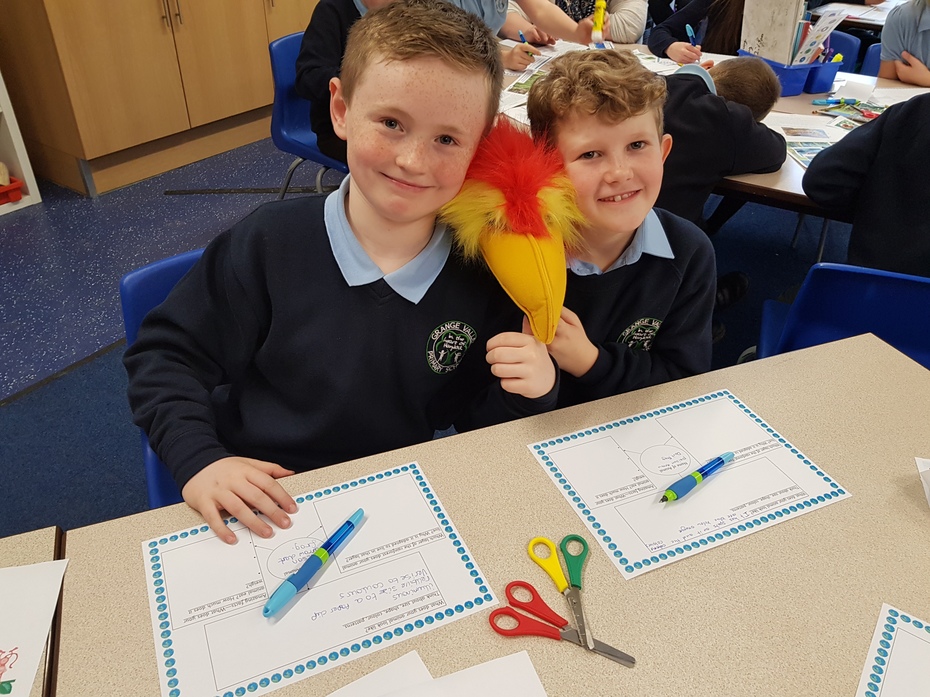 During our Art lessons, we have been learning about a Mexican artist called Frida Khalo, who liked to paint portraits of 'strong' women and monkeys. We spoke about the year or the woman and how the role of women has changed over the years. Year 5 were very interested in this discussion and have asked to complete a research project about this over the next few weeks. We had lots of fun trying to use modelling clay to recreate a monkey in the style of Frida... we have ended up with some very unique looking species!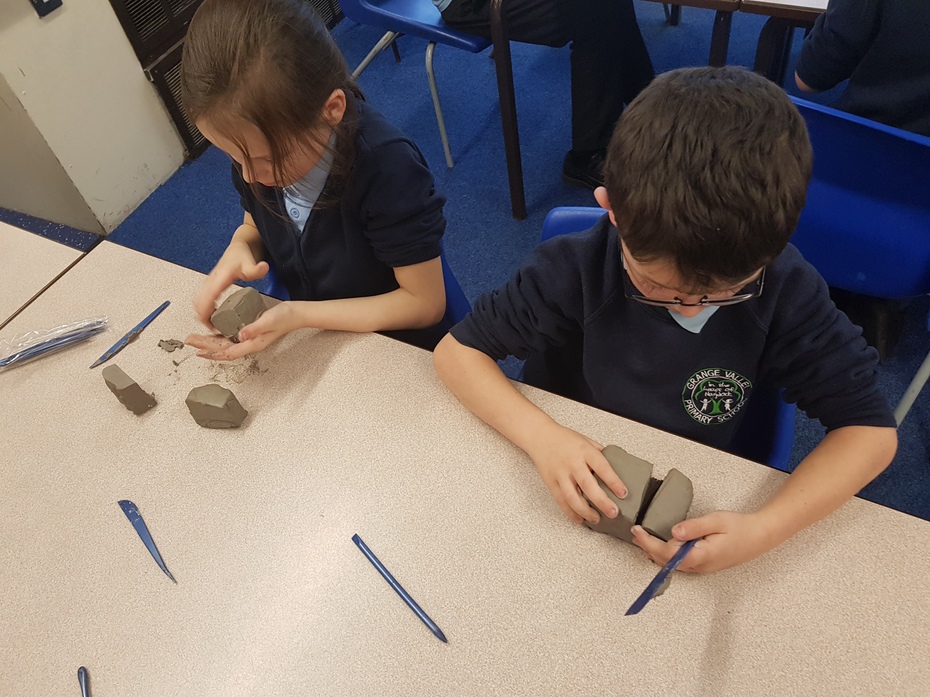 Have a lovely weekend,
Miss Hitchen and Mr Robinson
W/b 11/12/17
Reminders - Monday 18th December - KS2 Christmas Party
What a lovely festive week it has been- from performances, puppet shows to church visits- we have had so much fun! Next week our festivities will continue with our KS2 Christmas party. Please remember to pack your party clothes and party food on Monday! The food list is still up in the window for anybody who is still yet to choose which item of party food they would like to bring along.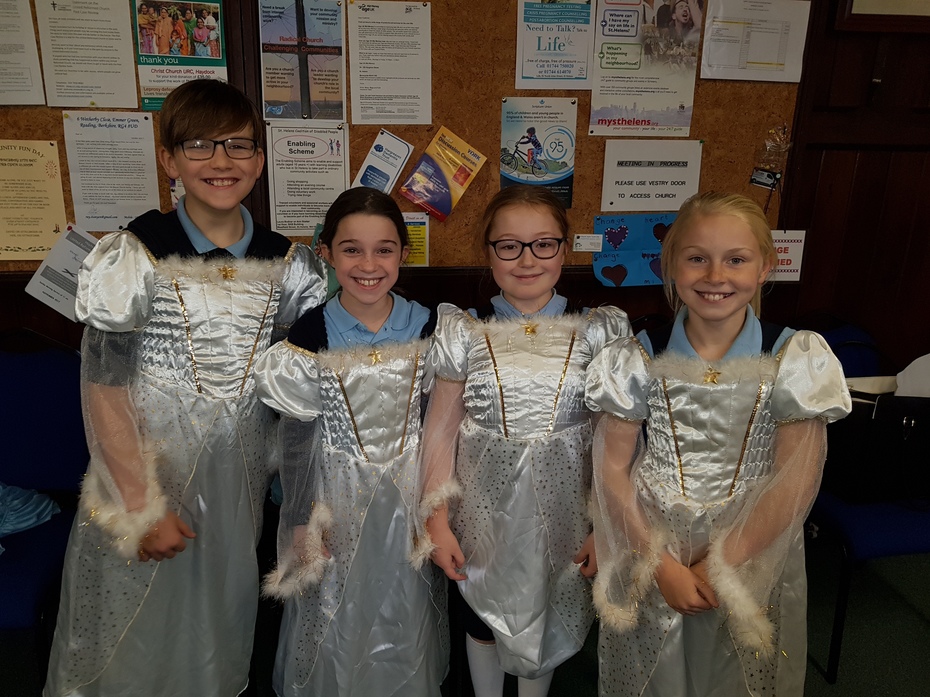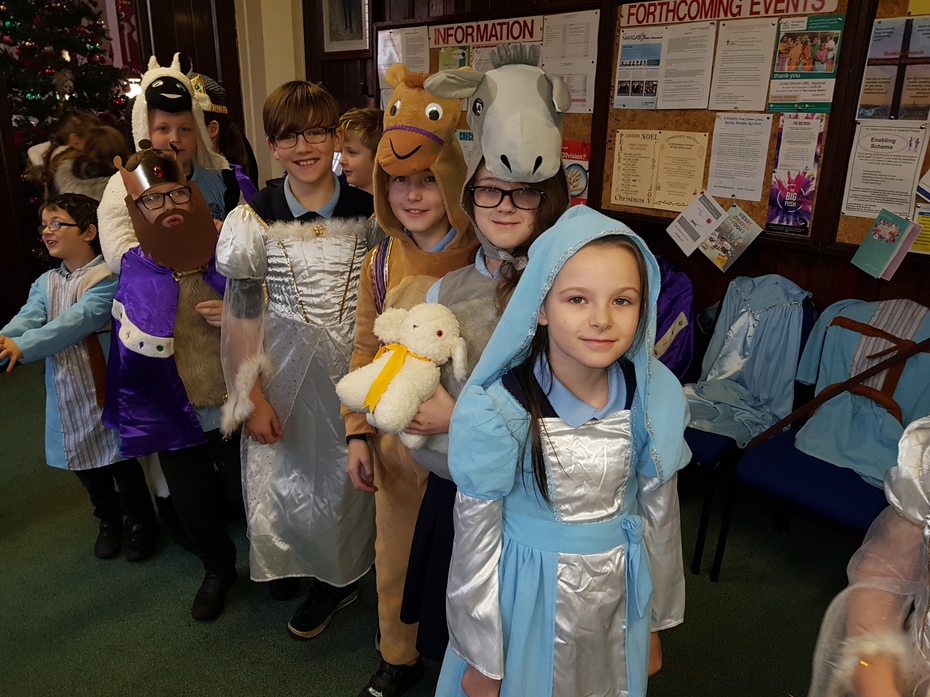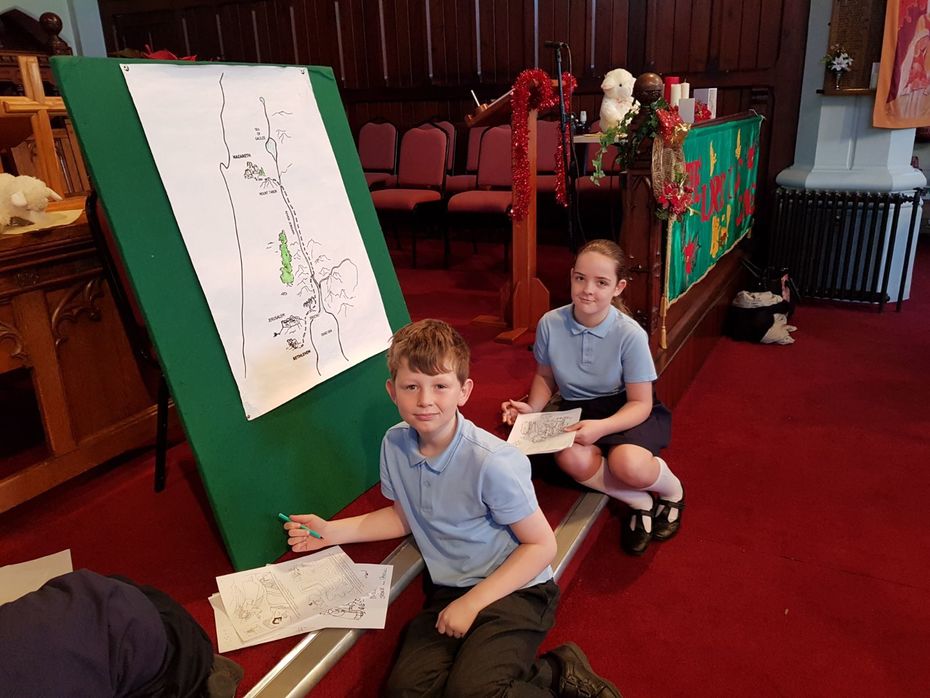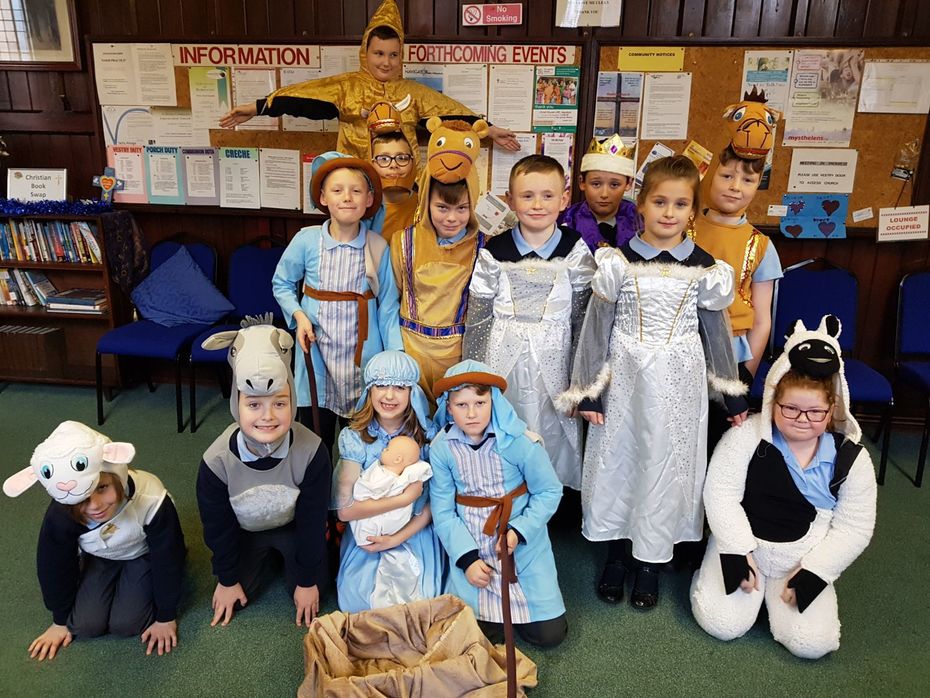 Have a lovely weekend!
Miss Hitchen and Mr Robinson
W/b 4/12/17
Reminders: Pyjamas and costumes to be brought into school ASAP
Wednesday 13th December - KS2 Christmas Performance- The Grinch
Monday 18th December - KS2 Christmas Party
Christmas has finally arrived in Year 5. We have had a fabulous festive week. We began our week with a lovely assembly by Mrs Threlkeld, learning all about advent and enjoyed singing our favourite Christmas carols around our beautiful Christmas tree. Year 5 have also had the opportunity to watch two fabulous nativity performances by our Reception classes and Key Stage 1. Let's hope our performance of ,'The Grinch' is just as good next week. Please make sure you get your tickets in plenty of time! Money should be sent in directly to class, clearly labelled with your child's name, indicating which performance you would like to come and watch.
This week we have been learning all about Christmas time in different countries. Year 5 focused on the different traditions from Germany. We enjoyed using the laptops to research and creating our own information posters to share with children from different year groups. Year 5 were so enthralled with learning about the different traditions that they have asked to continue this theme next week! Please encourage children to complete some of their own research at home.
Today children will have brought home an invitation to the Christmas party, Monday 18th December. Our class party food list is now up in Y5 classroom window, please come in to class and sign up for which item of party food you would like to provide.
Have a lovely weekend!
Miss Hitchen and Mr Robinson
W/b 27/11/17
Another brilliant week in Year 5! This week we have continued with our written methods of multiplication in Mathematics. We have used number discs, short multiplication and also had a try at long multiplication. This week we have also learned about square and cubed numbers. We used the Base 10 resources to investigate the different types of numbers.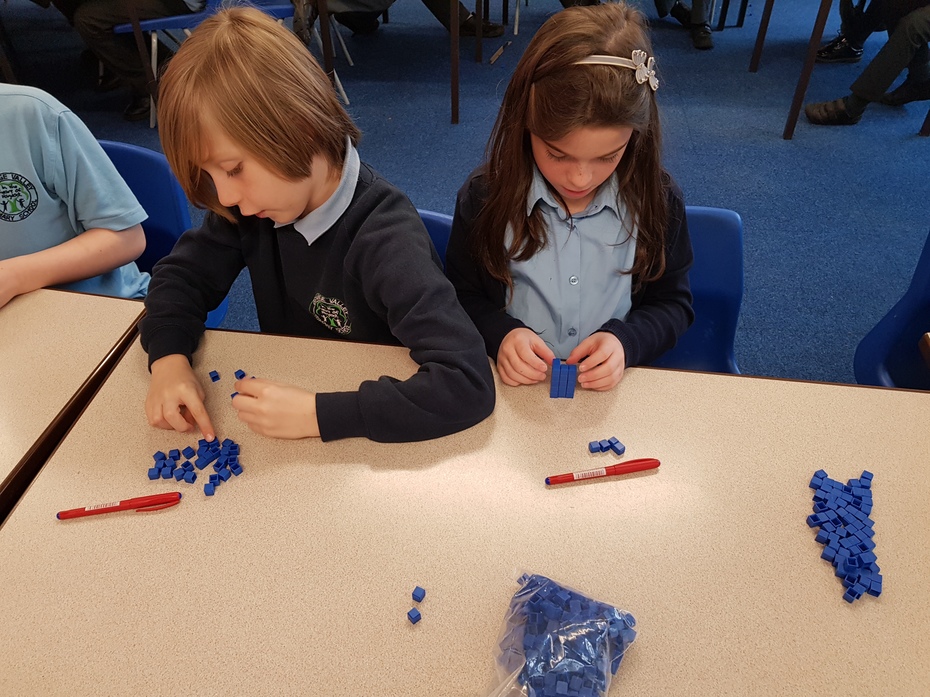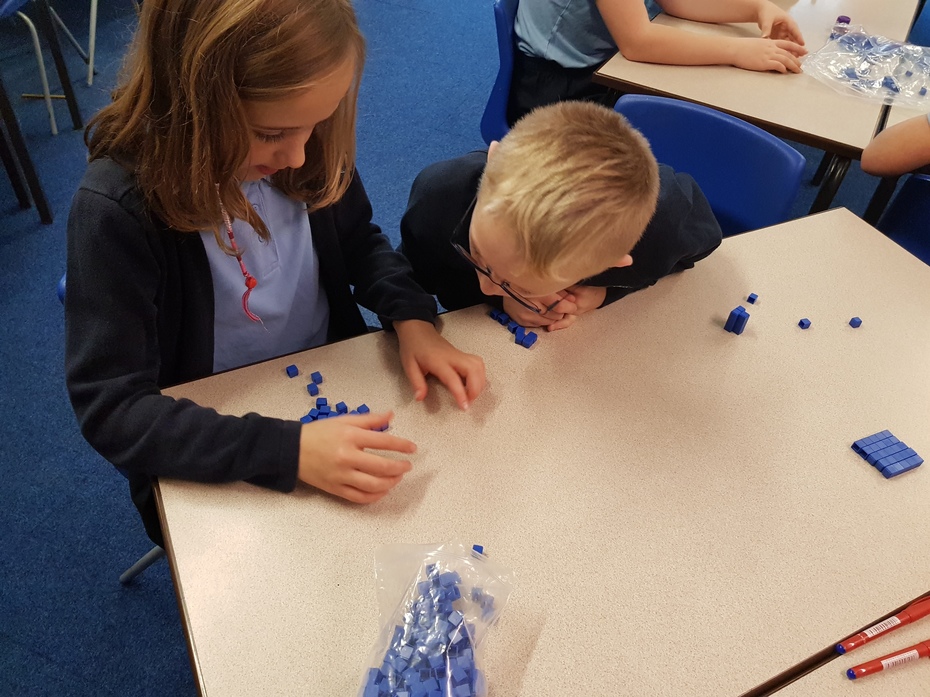 During our English lessons we have been reading a new story, 'Cosmic'. We are thoroughly enjoying the story, looking closely at how Liam and Florida differ in personality. We have practised writing complex sentences and how to punctuate our sentences correctly, depending on the position of the subordinate clause within the sentence.
Christmas hit Year 5 this week! We spent some time creating our Christmas tree decoration for Mrs Morris, who will be displaying our lovely tree at Christ Church. We have also had lots of fun decorating a Christmas theme mug, which will be filled with a hot chocolate reindeer very soon! These will be on sale for £2.50 from the Y5 classroom next week. All money raised will be sent to Roy Castle Lung Cancer Charity.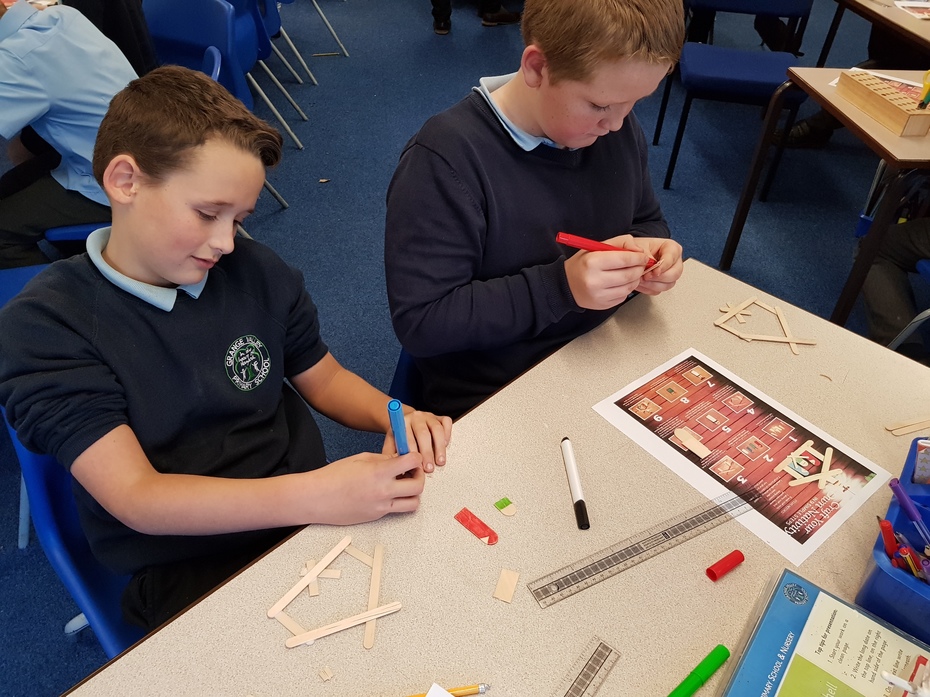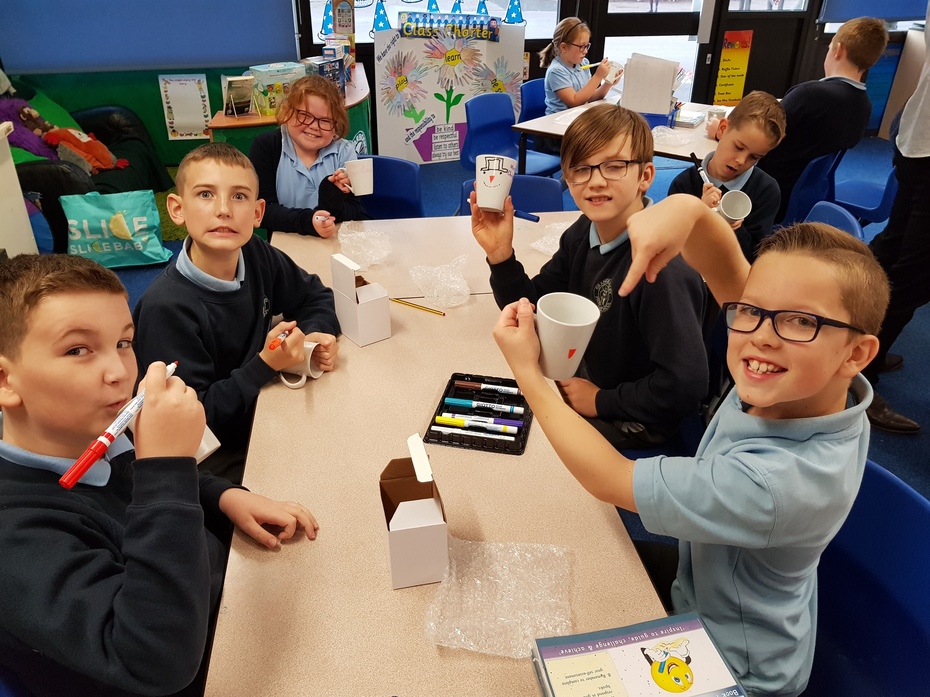 Have a lovely weekend!
Miss Hitchen and Mr Robinson
W/b 13/11/17
Thank- you to all parents for attending Parents Evening this week, it was lovely to meet you all and celebrate the achievements and progress your child had made during the Autumn Term. Please take time to look at your child's curriculum cover sheet, in particular highlighted targets for the term ahead. You will find activities to support your child at home, in the 'Welcome to Year 5' pack. If you need any further assistance about how to help at home, please do not hesitate to come in to school to discuss this further.
This week we have been discussing the importance of Anti-bullying week. We enjoyed attending our Learning Council debate were we were given different scenarios to discuss. It was lovely to hear how thoughtful our children are and how considerate they are of others feelings. Our children have a good understanding of what the term' bullying' means and what to do if they ever have any worries or concerns about how they have been treated in school, home or online. Well done Year 5!!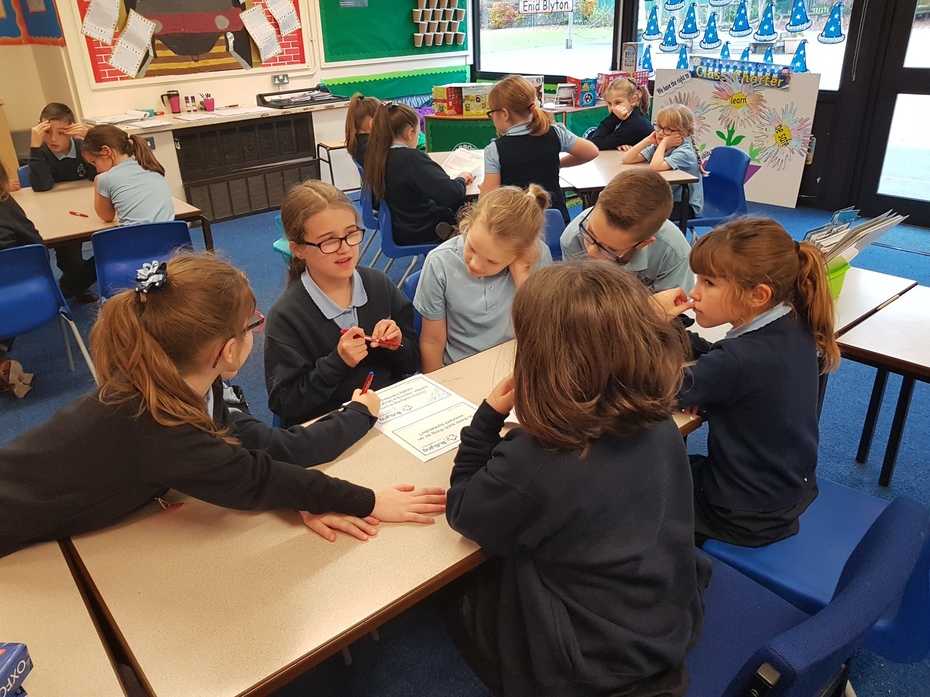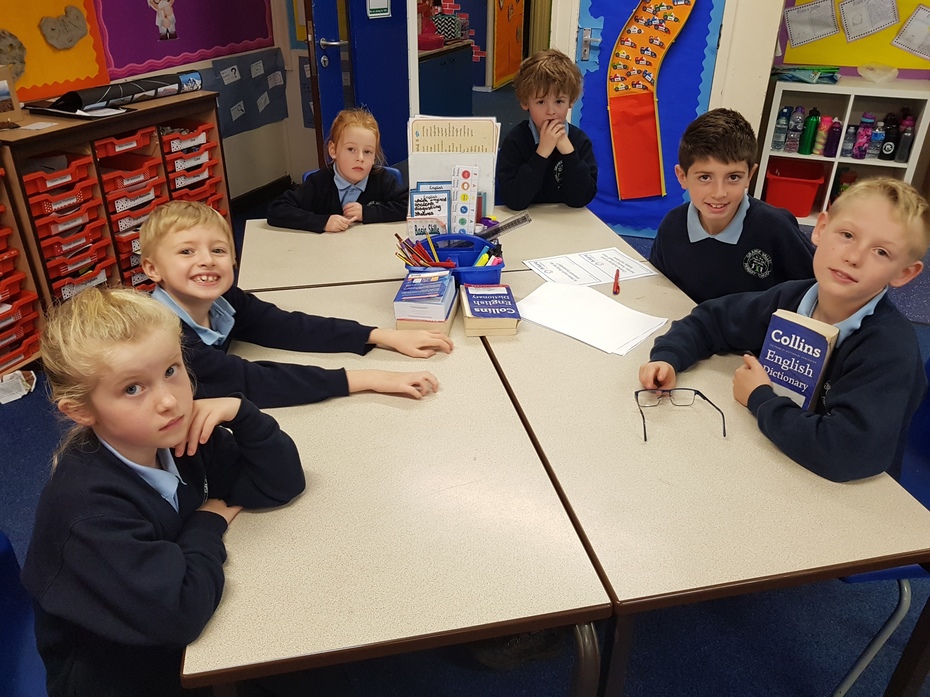 Have a lovely weekend!
Miss Hitchen and Mr Robinson
W/b 6/11/17
Reminders: Parents Evening letters have been sent home today. Please check the date and time you have been allocated.
Thank- you to all parents who have contributed to our Christmas Shoe box Appeal - they were collected earlier this week and very soon will make someone, less fortunate than ourselves, a lot happier this Christmas time.
This week we have been trying very hard to improve our inference skills in Reading. We really enjoyed looking closely at George Ezra's lyrics for 'Budapest'. We discussed as as a class the main themes through the song and used the words to infer and deduce information to answer tricky comprehension questions. We have also used video clips during our guided session this week. We enjoyed watching the clip of 'Alma'. We paused the clip at various points, to predict what could happen next. Year 5 were exceptionally good at summarising the plots and using figurative language to describe the characters and the setting.
During our English sessions, we have been learning all about various types of letters and correspondence. We worked in small groups to read different letters and decided upon the audience and purpose for each. As a class we listed the similarities and differences between the letters and created a structure for both formal and informal letters for our working wall. Mid week we received a letter from Cruella DeVil, who had applied for a new job as Chief Dog Handler at the animal shelter. Year 5 set to work writing a letter of rejection. We focused on using formal language and even used a colon to introduce the list of reasons for why she was not suitable for the position.
In Maths this week we completed our Addition and Subtraction review. I am so impressed with the progress children have made during this chapter and how their confidence has increased when using and applying their skills to solve tricky worded problems. Towards the end of the week we began our unit on Multiplication. Year 5 are very excited about this chapter, as they have become super fast at recalling their table facts. Please continue to practise these at home!
I look forward to meeting with you all next week to further discuss your child's individual progress and level of attainment for the Autumn term.
Have a lovely weekend!
Miss Hitchen and Mr Robinson
W/b 30/10/17
Welcome back! It was lovely greeting the children on Monday morning and hearing all of their stories about their half term holidays. It sounds like lots of fun has been had by all! This half term will be just as action packed as the last, with lots of fun activities planned for the run up to Christmas. Keep checking the weekly newsletter, where you will find all key dates for the term ahead.
Thank you to all families who have spent time in creating a project for our new topic, 'Magnificent Mountains.' They all look fabulous and Mr Robinson and I had a tough job choosing a Bronze, Silver and Gold winner so we had to ask the rest of the staff to help us! Well done to Megan, Daniel and James who have received prizes, I'm sure you'll agree they're all super!!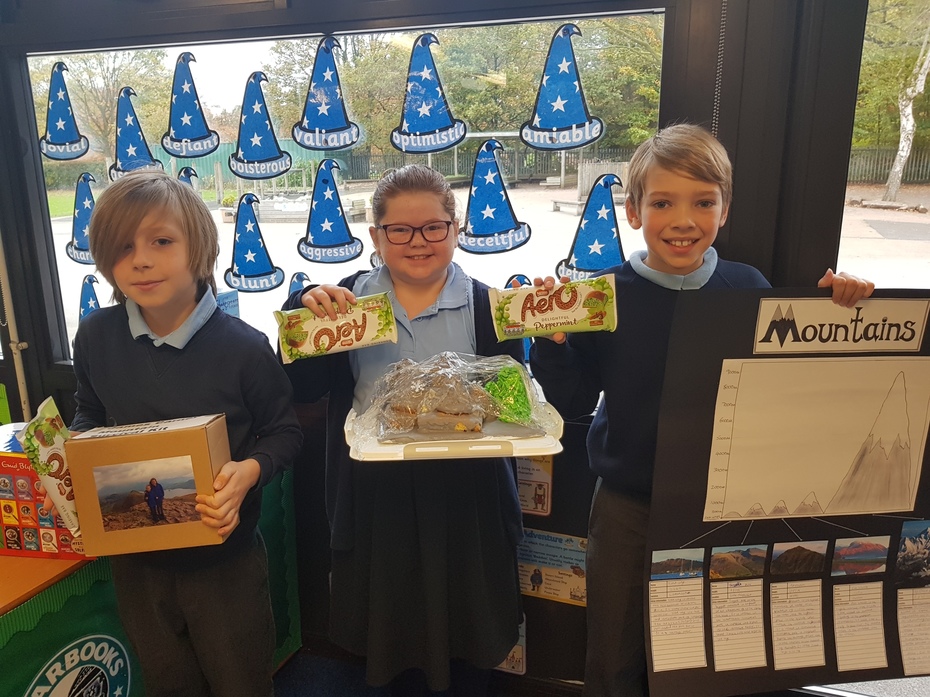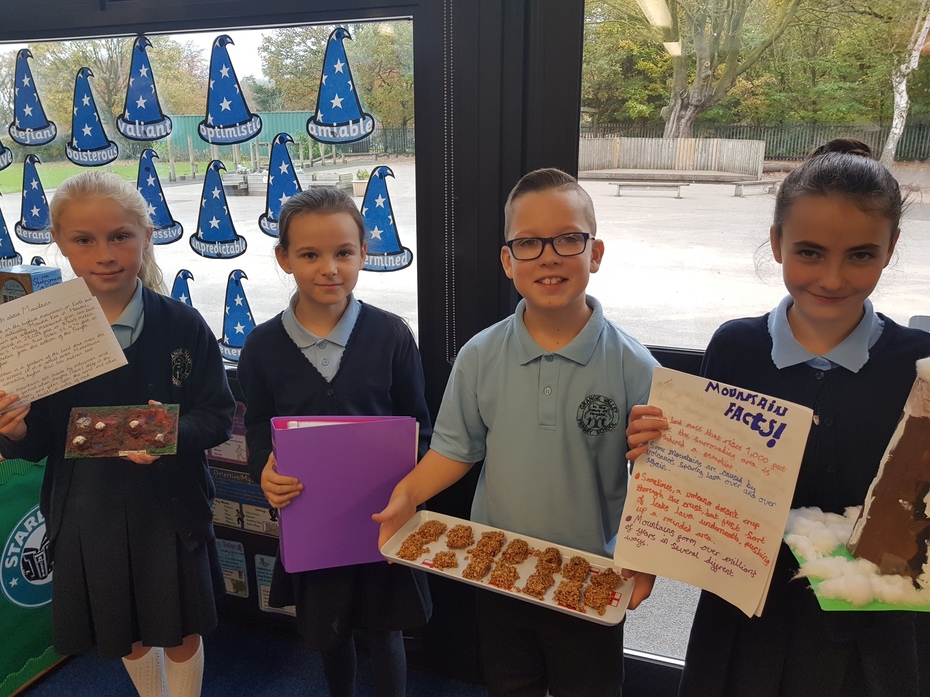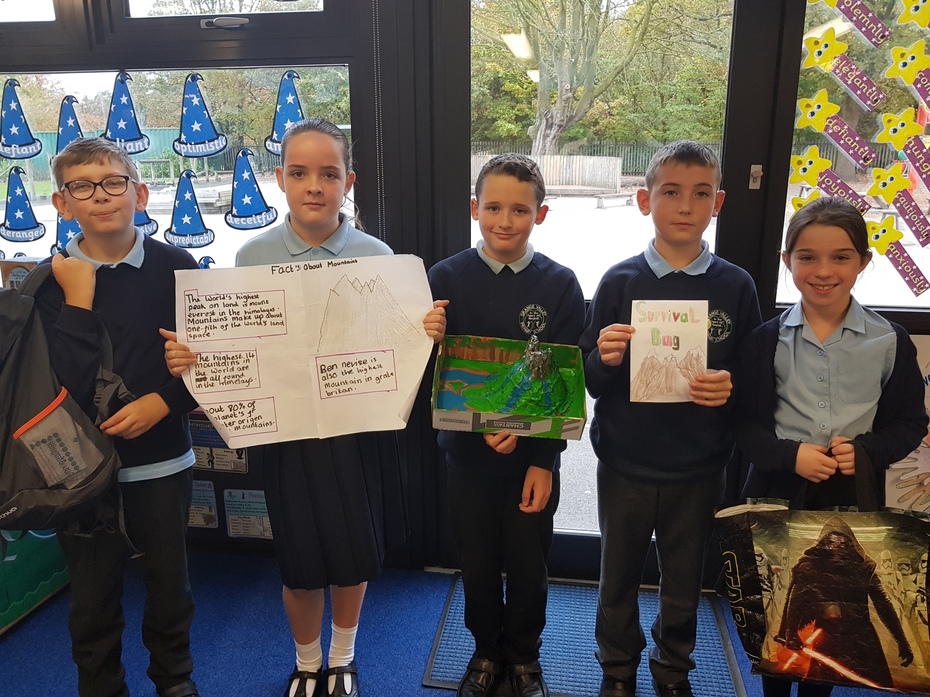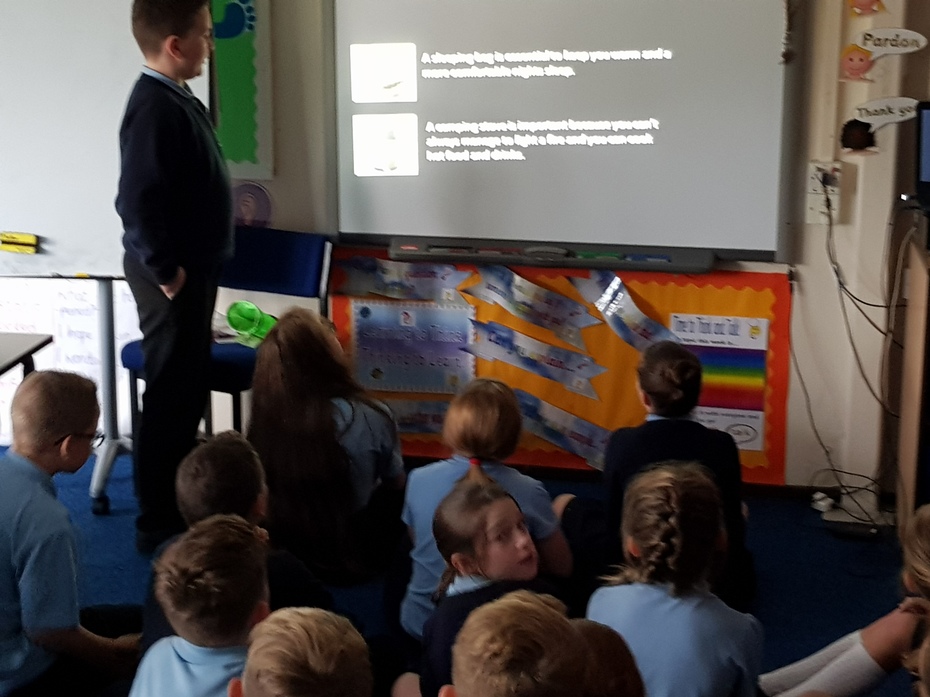 Awards continued to be given out in Year 5, when we held our first 'Reading Cafe' of the half term. Well done to all children who have managed to complete their 'Starbooks' loyalty cards for reading a variety of genres and recommending 'great reads' to their friends.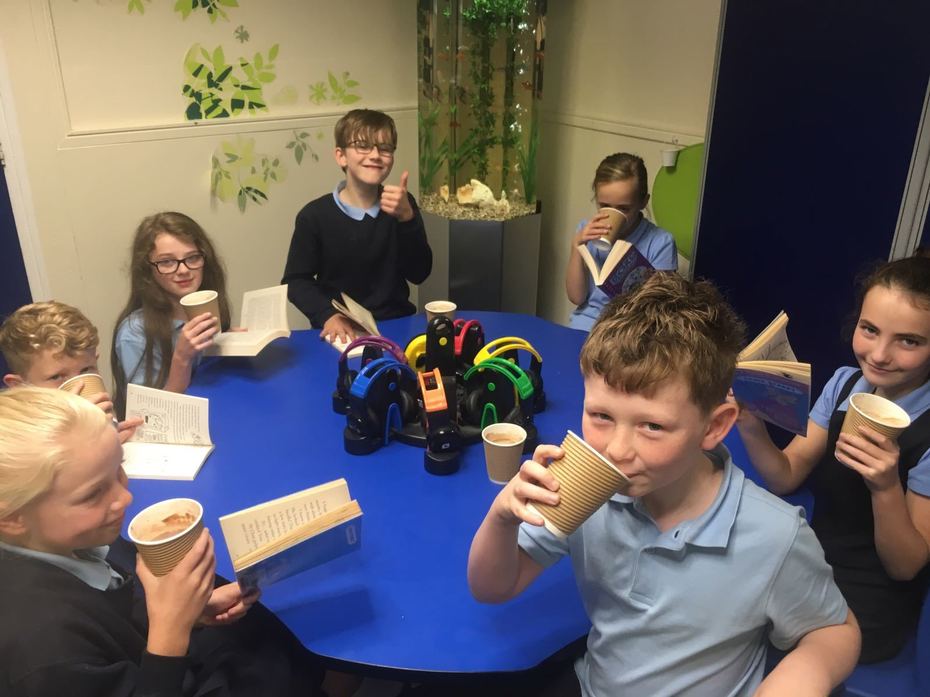 This week in Maths we have continued to refine our methods for addition and subtraction. We have looked at regrouping and exchanging using a place value chart, how to count on and back on a number line and also how to set out a column calculation. Towards the end of the week, we faced the tricky challenge of using these methods to solve multi step worded problems: some children even managed to create their own questions to challenge their partners!
This week in English we written our final, independent piece of writing for our Charlie and the Chocolate Factory unit. We have had some fantastic story lines: Bugsy and The Golden Easter Egg; Lloyd and the Shiny Match Attack; Nathan and the Pumpkin Hologram. Year 5 worked hard to showcase all of the sentence types, punctuation and different vocabulary they have learnt over the previous couple of weeks. After our pieces were complete, we spent some time using different editing techniques to improve our writing further. Very soon these will be up in our classroom for you to come in and read!
During our Art session, we created some spooky pictures. We used water paints to create an eerie background and blended carefully to create the effect of the moon shining. We used black card to create silhouettes of ghostly objects which we then placed on top. They look amazing! Well done Year 5!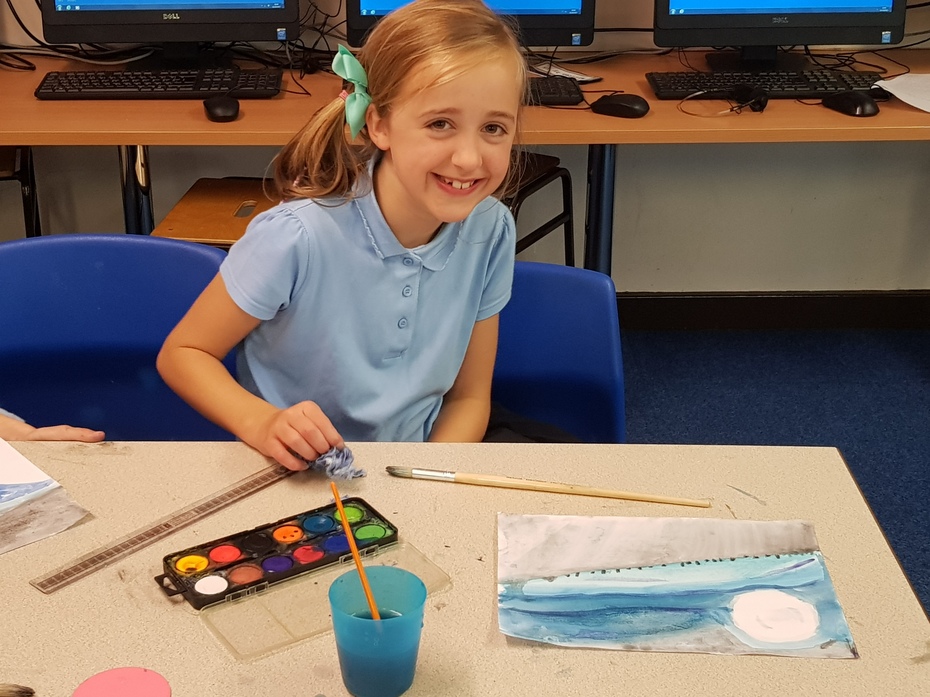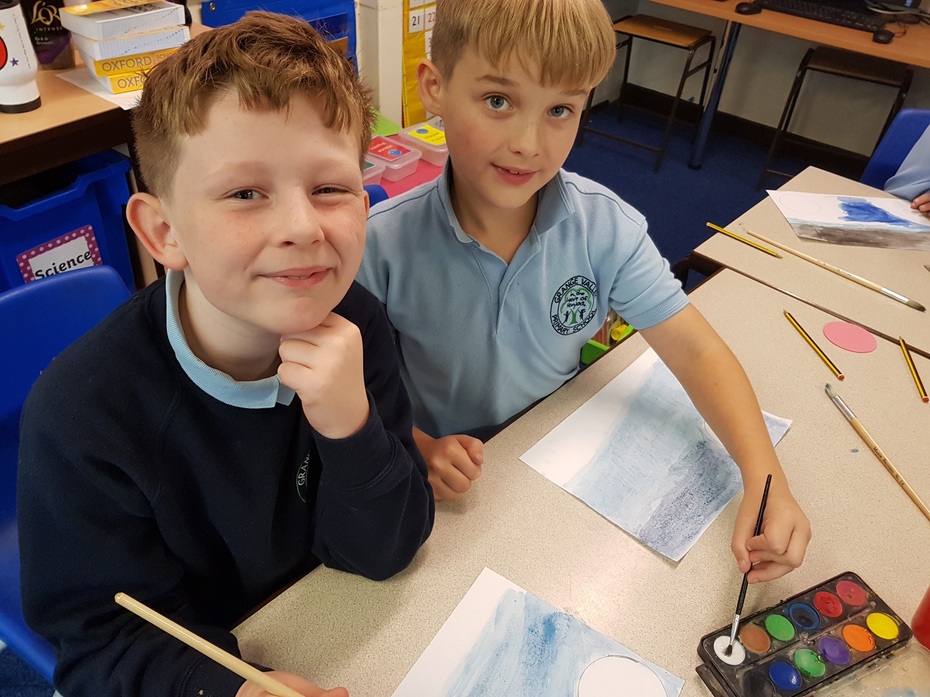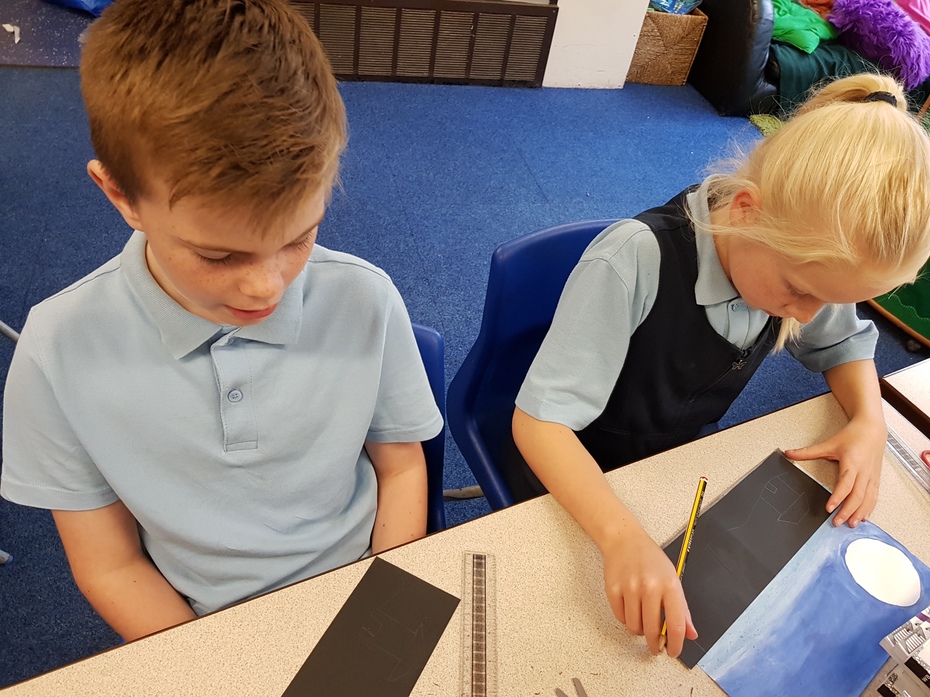 Finally, thank you to parents for your efforts with fancy dress costumes for the 'Ugly Bug Ball'. We had a great time playing games and dancing with our friends.... we were even allowed to eat lots of sweets!
Have a lovely weekend!
Miss Hitchen
W/b 9/10/17
Reminders: Crucial Crew trip - Tuesday 17th October
This week in Maths we have been learning how to count on and count back using a variety of different methods. Year 5 were so confident that we even managed to use our knowledge of rounding to find an approximate answer first. During our basic skills and arithmetic session this week, I saw a huge increase in scores, which the children believe is down to our early morning skills and Times table Rock Stars. Well done to Charlie, who has managed to upgrade his avatar and to Jacob, who is at the top of the leader board! Please ensure children arrive to school on time so they do not miss out on these important activities.
During our English sessions, we have continued with our class story, 'Charlie and the Chocolate Factory.' This week we have used a whole variety of skills to make our writing 'FANTASTIC'. We have looked at building tension through the use of repetition and short sentences, to being able to write lovely descriptive complex sentences to help 'paint the picture' for the reader. Our writing is improving day by day and it so lovely to see how many children are attempting to challenge themselves during the session and becoming much more independent.
We ended a busy week with an assembly from the Roy Castle Lung Cancer Foundation. Amy came to speak to us about an enterprise project where we can set up our own businesses and help raise money for a fabulous charity to help lots of people. Next week, we will be working alongside Year 6 to decide upon the themes for our businesses. Watch out Alan Sugar!
Have a lovely weekend!
Miss Hitchen and Mr Robinson
W/b 2/10/17
Another fabulous week has flown by in Year 5. This week we have began our new English unit, Charlie and the Chocolate Factory. We are thoroughly enjoying the text but we equally enjoyed watching the opening scenes from both films, to help us to compare and contrast. We started by discussing the narrative plot of the central character, Charlie Bucket. We discussed significant events and placed them on an emotion scale. On Friday, we turned our classroom into our very own chocolate factory and needed a special golden ticket and secret password to enter. We had lots of fun taste testing a variety of sweets and chocolates. From this activity, we created our own 'Shadeometer' of adjectives to help us to describe different tastes. Year 5 identified that adjectives can have a positive or negative connotation and so it is important when using them in our writing, that we use them in the correct context.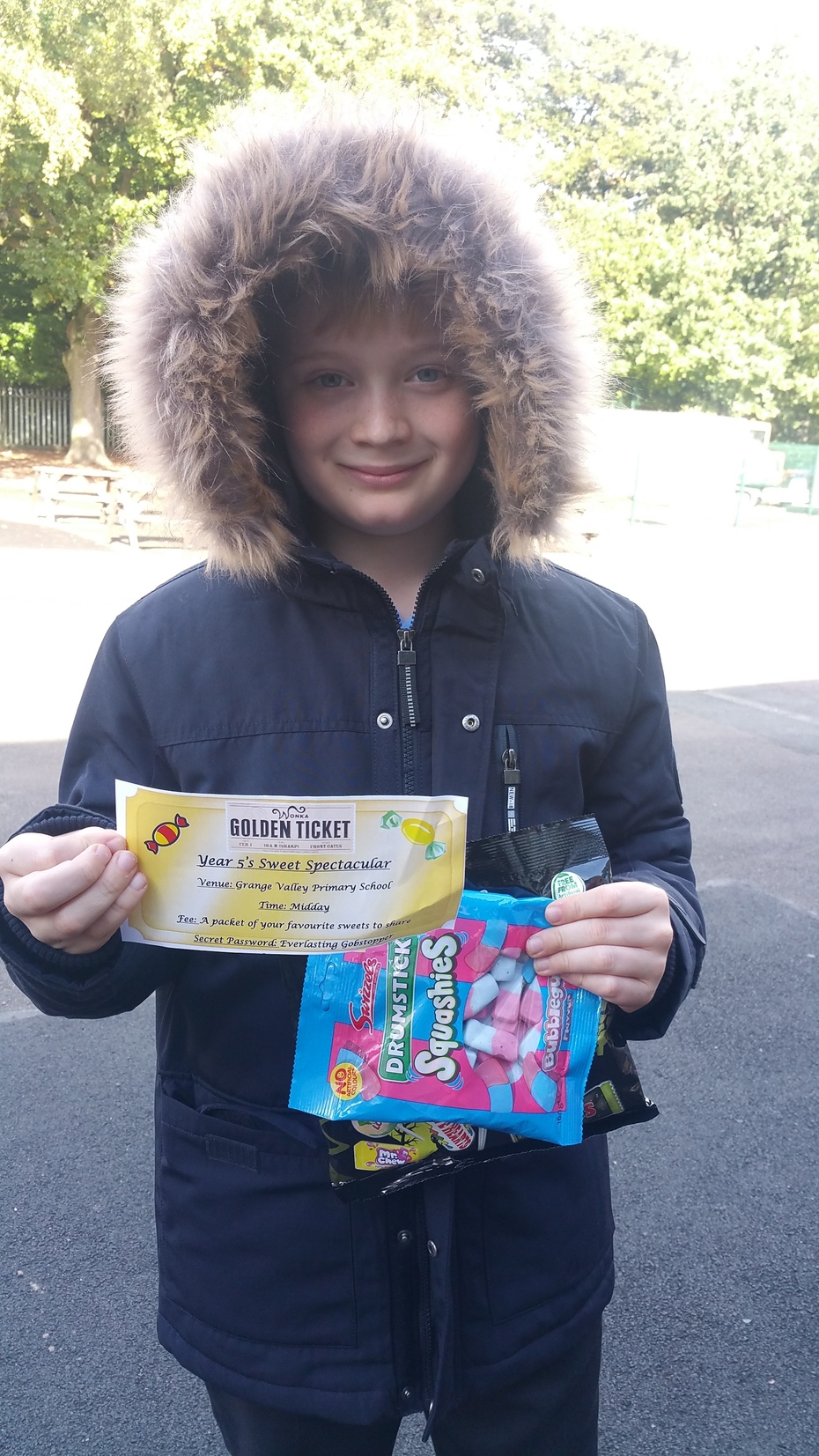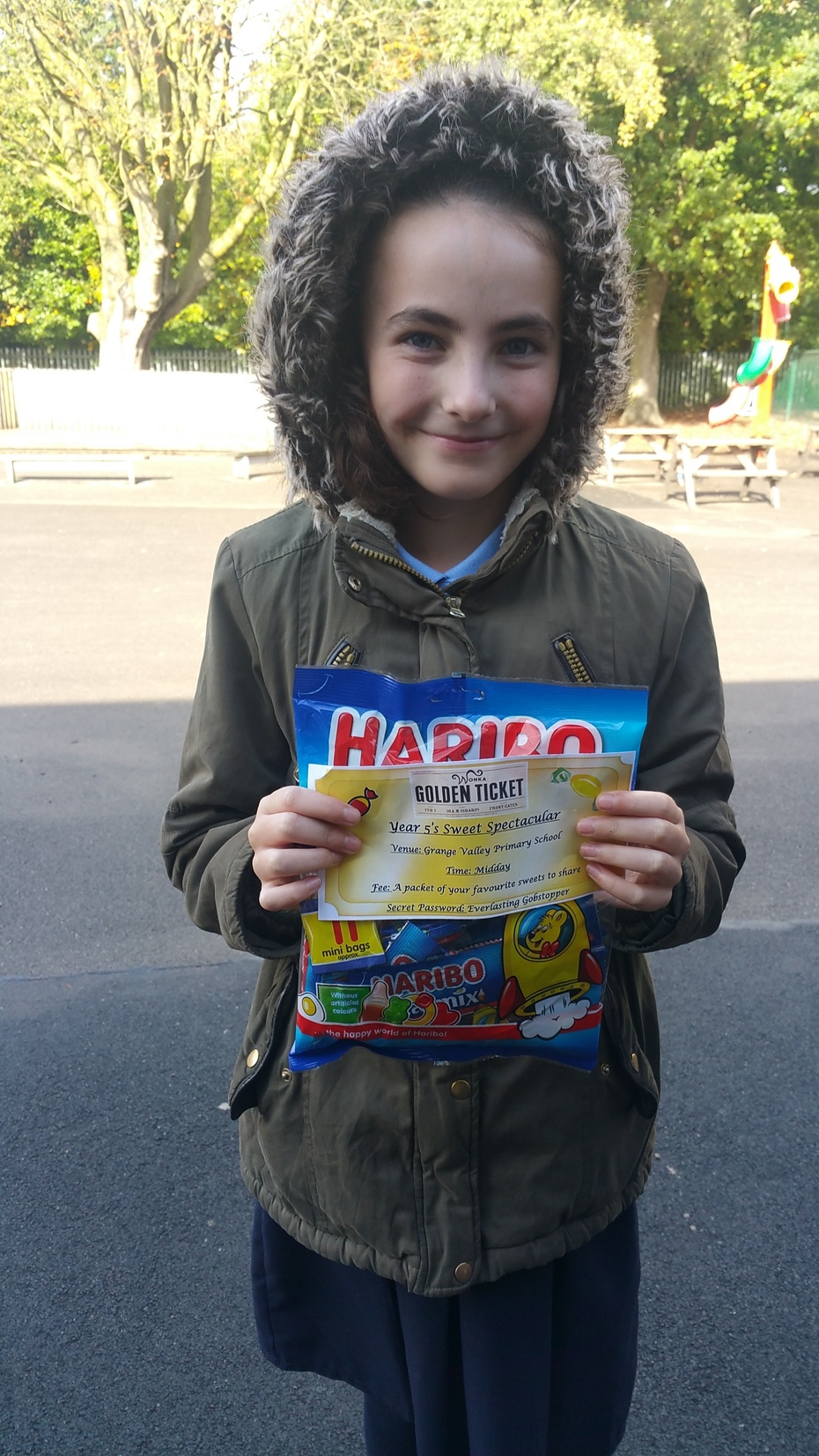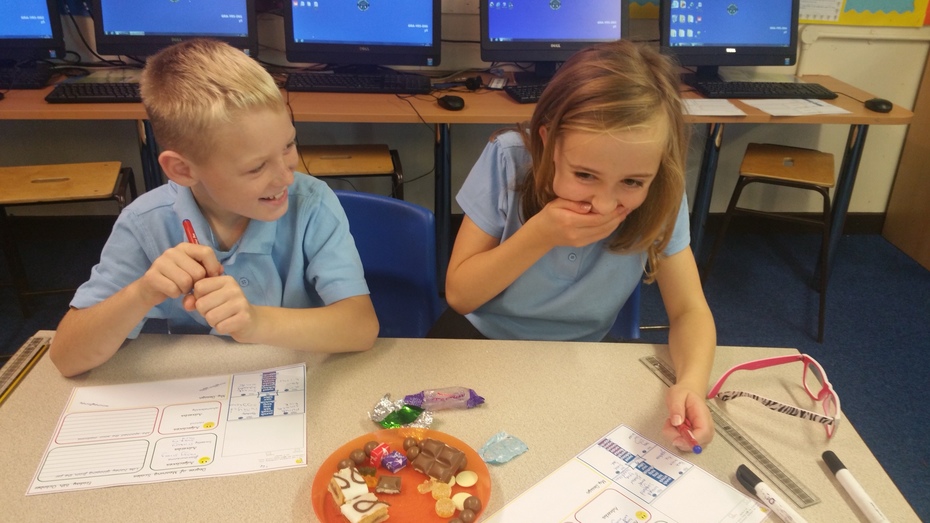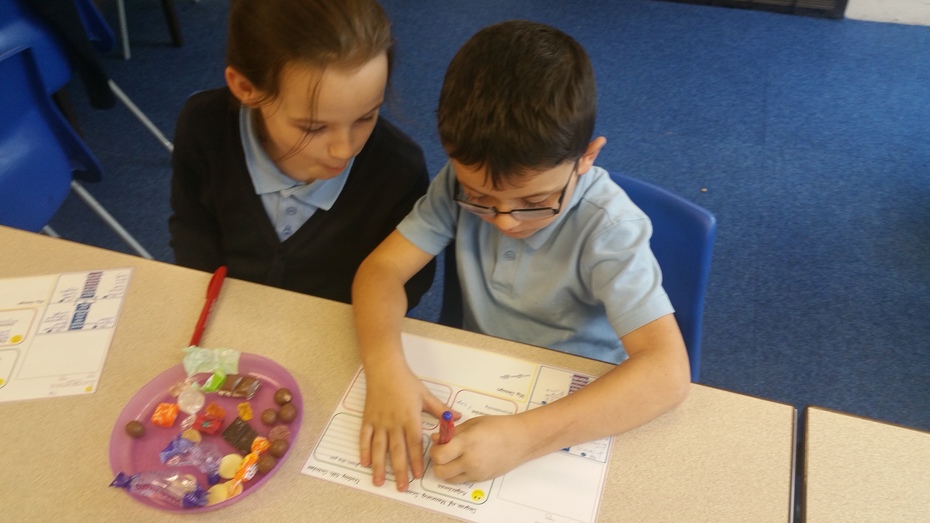 Have a lovely weekend!
Miss Hitchen and Mr Robinson
W/b 25/9/17
Welcome to our new class blog page. Here you will find a little snippet of what we have been up to in class. This week we have been learning how to keep our mind healthy by using a variety of mindfulness techniques. We particularly liked Peer Massage and Yoga. On Wednesday, an author came in to class and we took part in a Guided Visualisation session, where we created our own magical garden. Following the workshop we created our own rhyming poems, which will be displayed in our corridor very soon.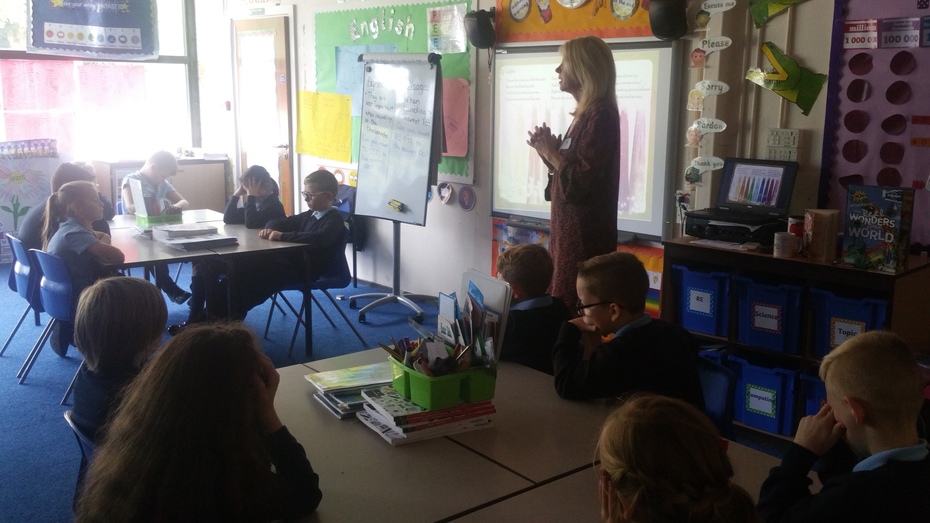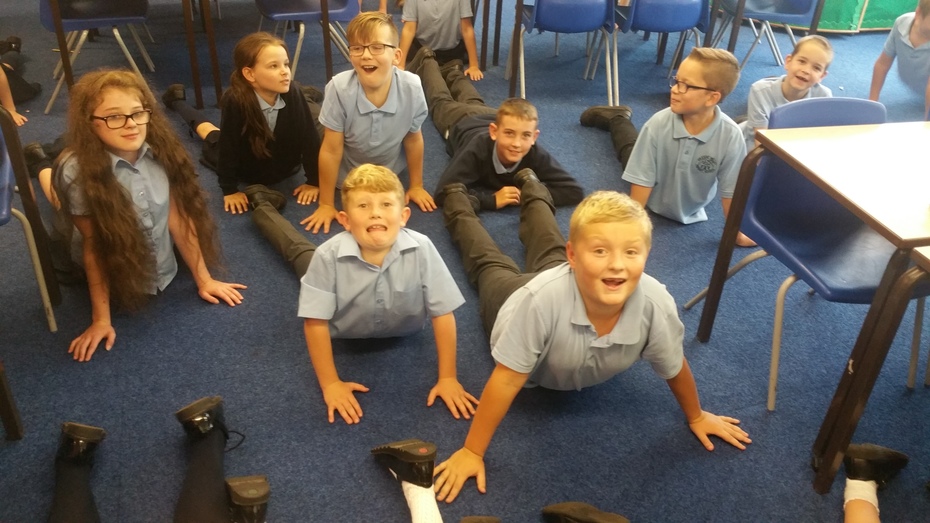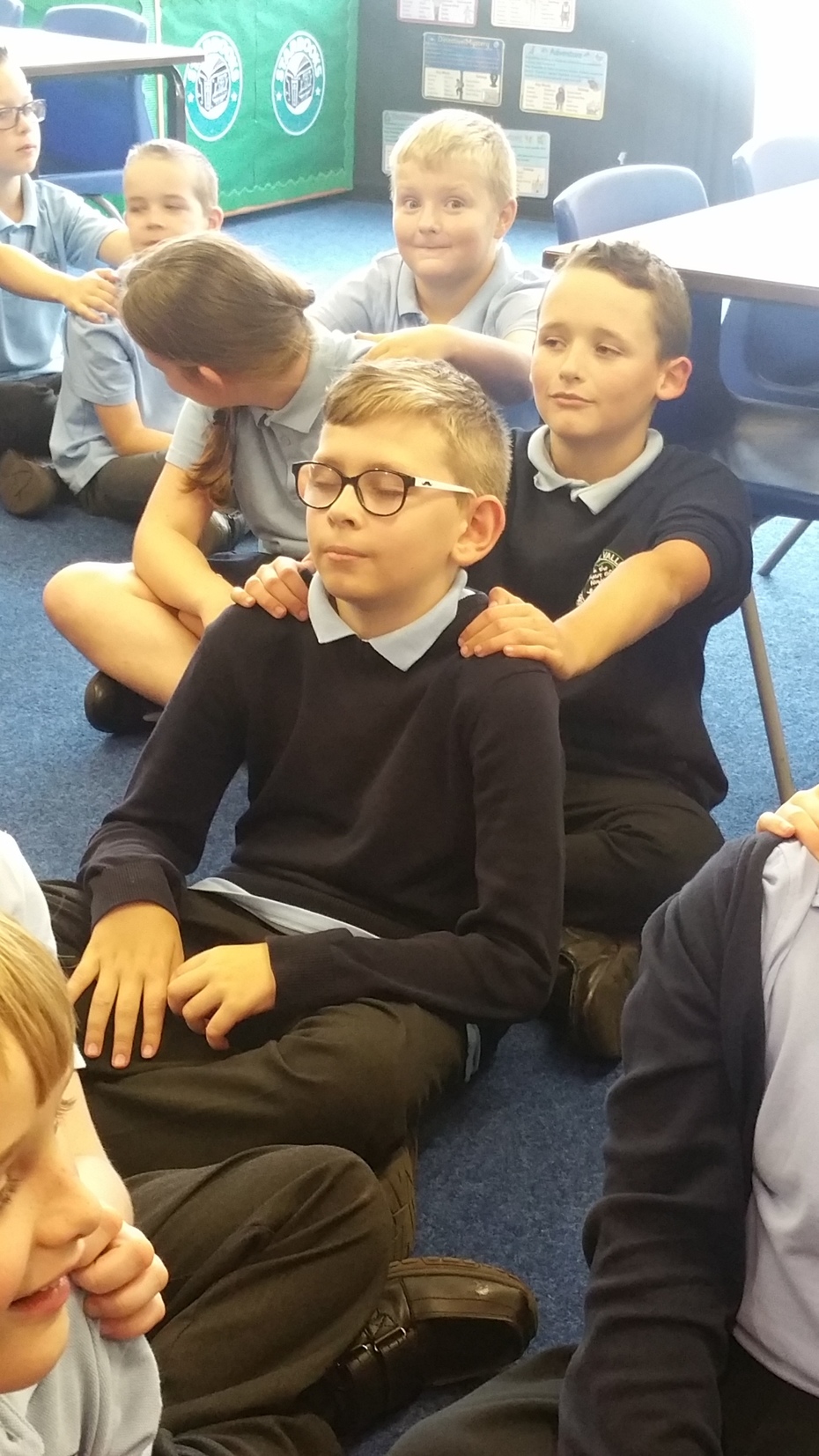 This week we also celebrated European Day of Languages. Year 5 have learnt how to count to 10 in Greek and stunned everybody in assembly with how confidently they could recall the numbers. Why not ask them to show you at home?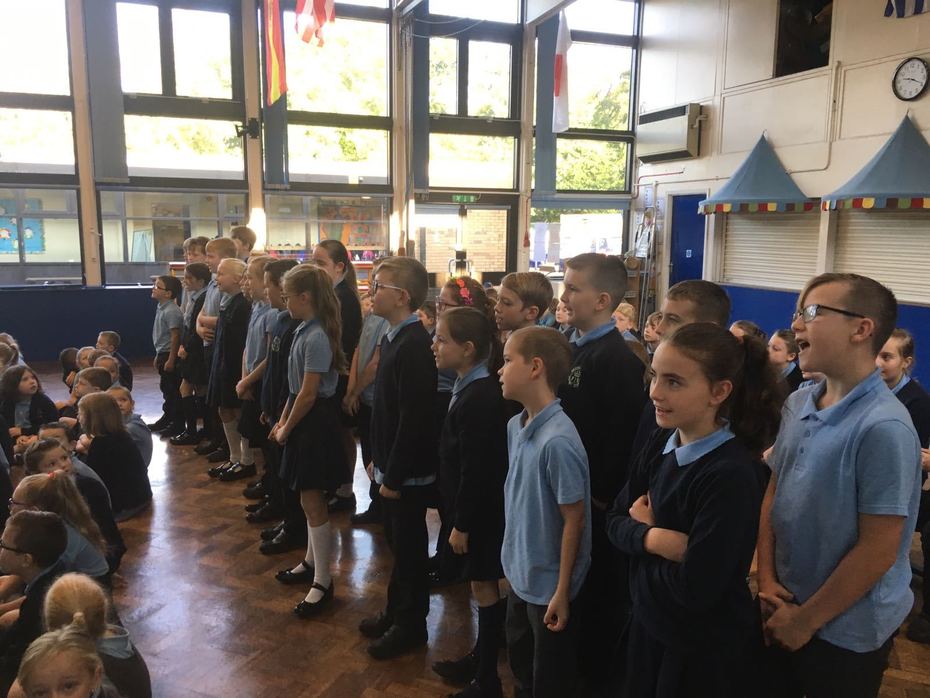 Today children have brought home their 'Times tables Rockstar' username and passwords (stapled inside their Reading Journals). Children have had a practice at logging in and how to play the games. Please encourage children to use this resource at home, as being able to recall and apply table facts, helps children within all areas of Mathematics. Year 5 really enjoyed the competitive element and are already looking forward to who reaches the top of the leader board next week!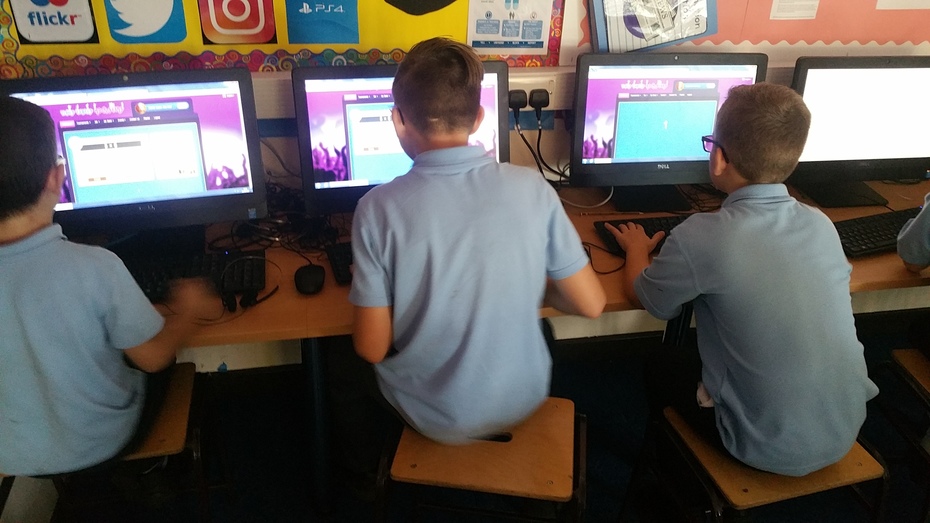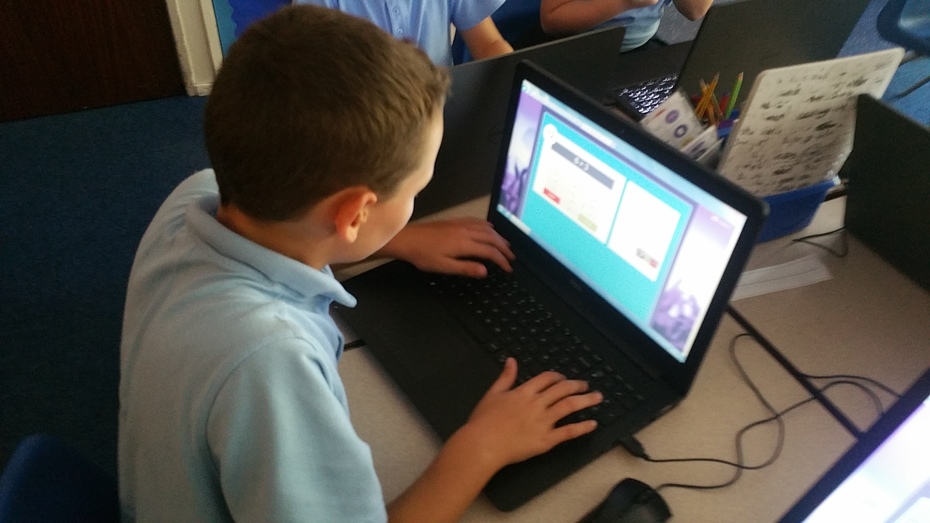 Have a lovely weekend!
Miss Hitchen and Mr Robinson