Welcome to Miss Golding's Year 1 blog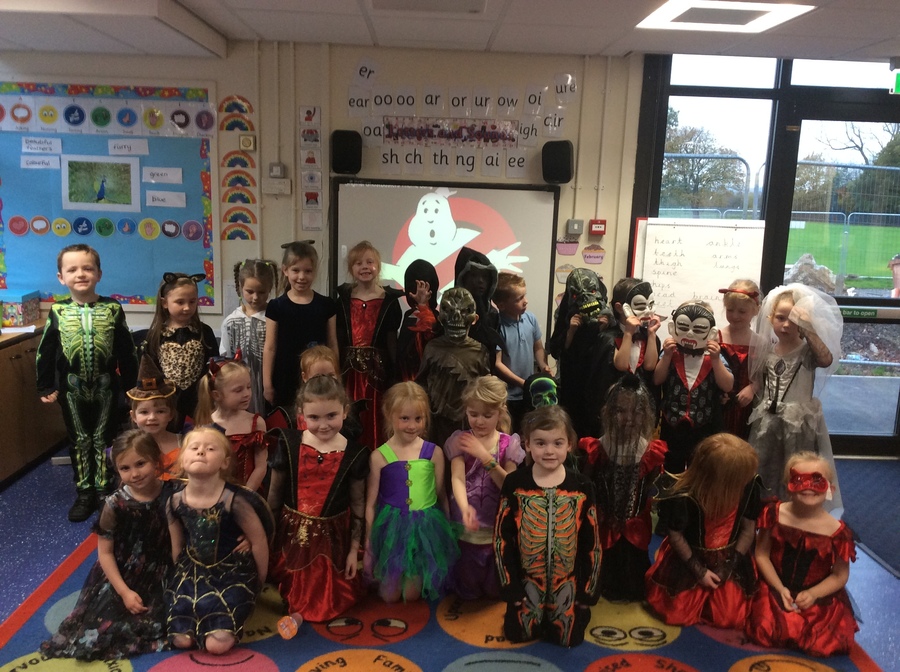 Week beginning 25.9.2017
This week as part of our Geography topic on weather we learnt about weather forecasting. We looked at the different weather symbols and discussed their meanings, then in groups the children planned and presented their own UK weather forecasts to the rest of the class.
Our work on weather is closely linked to our science topic on seasons. This week in science we learnt about how the changing weather effects plants and trees. The children produced some beautiful artwork showing how trees change through the seasons. Next week the children will be going on an Autumn walk to observe the signs of Autumn.
Reminders
The children will need to bring in suitable clothing for our Autumn walk on Monday. Ideally a warm coat and wellies.
Week beginning 2.10.2017
We have been very busy in year one this week! The children thoroughly enjoyed their Autumn walk on Tuesday, they found many signs of Autumn around our school and then later in the week they made wonderful bookmarks with the lovely leaves that they had collected.
We also took part in 'No Pens Day Wednesday' to focus on learning through speaking and listening. The children brought in special belongings to 'show and tell' and we celebrated each other's special moments. The children did exceptionally well, speaking so confidently in front of the class, listening to others and asking thoughtful questions!
This week we have started our new English unit on the book 'Wombat Goes Walkabout' by Michael Morpurgo. The children really enjoyed listening to the story and learning about a number of Australian animals. The children discussed in their groups their favourite animals and wrote some fantastic sentences about why they like them! The children have also started to write their own versions of the story, using some super adjectives.
The children have also been very busy practicing for our upcoming Diwali assembly. Next week we will continue the preparations and the children will be learning more about Indian art and food.
Reminders
Diwali assembly - Thursday 19th at 2.30pm
Week beginning 20.10.17
This week has been all about Diwali in year one. The children have used clay to make their own diva lamps. They have created some beautiful artwork including rangoli patterns and mendhi designs. The children have also made barfi and sampled some other Indian foods. However, the highlight of the week was the amazing assembly the children took part in, they worked so hard and we are very proud of them!
Congratulations to this weeks award winners!
Gold - Maddison Park
Silver - Alishia Devine-Mills
Bronze - Isobella Simpson
Writer of the week - Tyler Speakman
Reminders
Ugly bug ball (£3) - Friday 3rd November
Week beginning 30.10.2017
This week in English we have been learning about instructions. The children have followed instructions to make fruit kebabs and rice crispy cakes. They have also looked at the layout and features of instructions and learnt how to write instructions using imperative verbs!
To end the week we have all had lots of fun at the 'Ugly Bug Ball'. The children looked great in their costumes!
Congratulations to this week's award winners!
Gold - Willow Hewitt
Silver - Riley Prescott
Bronze - Max Broughton
Writer of the week - Phoebe Howarth
Reminders
Flu spray - Tuesday 7th November
Week beginning 6.11.2017
We have had a brilliant week in Year one this week. In English we introduced our new topic on traditional tales which we are basing on the story of 'Pinocchio'. We really enjoyed listening to the story and had lots of fun learning about different types of puppets, we also had a go at making our own puppets!
In maths we have finished our unit on subtraction within 10, the children are now quite confident in using different methods such as subtracting by crossing out, using number bonds and a number line.
On Wednesday we had our first African drumming session with Mr Pope, which was absolutely fantastic. We all got the chance to play the drums and we learnt that the real name for an African drum is a djembe!
Congratulations to this week's award winners!
Gold - Pearl Melia
Silver - Alex Lawrenson
Bronze - Cohen Dolan
Writer of the week - I
Reminders
Parents evening week - w/c 13th November
Week beginning 17.11.2017
This week in English we have continued our work on 'Pinocchio'. The children have written some beautiful sentences which have included, adjectives, time adverbs and repetition for effect.
In maths we have revised our learning on addition and subtraction and next week we will be starting a new unit on ordinal numbers.
Also this week as part of anti bullying week the children have taken part in a learning council debate around the issue of bullying.
Attendance 96.67%
Congratulations to this weeks award winners!
Gold - Summer Latham
Silver - Finlay Butler
Bronze - Frankie Murray
Writer of the week - Scarlett Barmby
Week beginning 20.11.2017
Another busy week for year one this week as rehearsals for our nativity have begun. The children have worked really hard and the performance is looking great!
In English we have written some more fantastic sentences based on the Pinocchio story, one of the things we have learnt this week is how to use a simile.
We started our maths unit on ordinal numbers with some fun races on the play ground. The children really enjoyed this and were brilliant at using positional language.
The children have also been using scientific enquiry to learn about their five senses.
Attendance 98.0%
Congratulations to this week's award winners!
Gold - Finley Foster
Silver - William Price
Bronze - Kacey Carter
Writer of the week - Lilly-Rose Ellis
Mathematician of the week - Willow Hewitt
Reader of the week - Amelia Davies
Reminders
Pantomime £4 - Thursday 30th November
Nativity Tuesday 5th December 9.30am and 2.15pm